The methods of dealing with the resulting steel chips also carry huge potential. This potential can be tapped by the application of high-quality briquetting systems, like those manufactured in various dimensions and performance classes by RUF Maschinenbau, Zaisertshofen. The modern hydraulic presses for steel and stainless steel chips operate with a specific pressing power of up to 5,000 kg/cm2 and achieve throughput performances of between 30 and 3,000 kg/hour.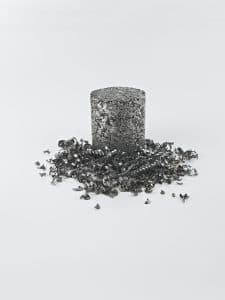 The volume of the chips is markedly reduced through briquetting. The resulting compact form means you achieve higher income from sales and have much easier handling processes.
Because both internal forklift traffic and external transport efforts are reduced which leads to significant cost benefits.
In addition, the danger of soil pollution through cooling lubricants is avoided. Even more important is that the residual cooling lubricants are pressed out and after a suitable filtration process can be reintroduced to the manufacturing process. This means steel and stainless machining companies can reduce their production costs.
In the meantime there are over 5,000 RUF briquetting systems in operation worldwide, proving that their application pays off in practice. As an example, Lauble GmbH, Dunningen, briquette steel and stainless steel chips with a RUF 15/4000/70. Through the application of this system, the turned parts specialist saves a huge amount of space as well as reducing the percentage of clinging cutting oils on the chips from originally between ten and fifteen percent, down to three percent. The recovered oil is collected, filtered, centrifuged and finally reintroduced to the machining centers.
Another example: EZ Zerspanung GmbH, Kalbach, recover the majority of the residual cutting oils from the stainless steel chips through briquetting with a RUF 4/3700/60×40. This is the primary reason why the briquetting press has paid for itself in less than three years of operation at the machining specialists' site. A further side benefit is that the volume of the stainless steel chips is reduced by between a factor of 1:4 and 1:10 depending on material and type of chip, which in turn reduces the transport costs.
The parts manufacturer Grieshaber GmbH & Co. KG, Schiltach, permanently produce stainless steel chips resulting from the three-shift operation processing various alloys, and these chips are collected directly in single varieties from the machining center, crushed and briquetted with RUF systems. The recovered cooling lubricants flow back into the cooling lubricant process and the briquettes, thanks to the single varieties of chips, can achieve the maximum income possible when sold. The fact that 18 individual RUF systems are in operation here speaks for itself when it comes to customer satisfaction.