They can be used indoors and outdoors, thus combining the advantages of stationary electrically operated systems, such as less noise and no emissions, with the flexibility of mobile machines.
Komptech has driven the development of energy-efficient machines for years and offers an extensive selection of electrically powered star and drum screens. The company has now developed a power concept for shredding machines that allows both electric and mobile use.

On the mobile e-versions of the Terminator and Crambo, the hydraulics are driven by a highly efficient electric motor instead of a diesel engine. This electric drive saves up to 70 of the energy costs for the same material throughput. What's more, these machines can be run with renewable energy instead of fossil fuels, thus contributing directly to CO2 reduction.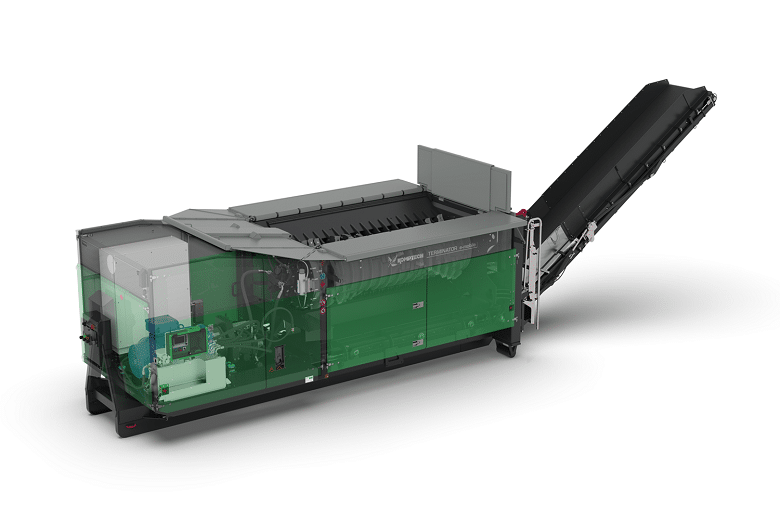 "Think green" – Terminator and Crambo e-mobile
The electric motors of the low-speed Terminator and Crambo mobile shredders come in the same power levels that have proven their worth in stationary use. 160 kW corresponds to the familiar 3400 power level and 200 kW to 5000. As a single-shaft shredder, the Terminator pre-shreds all kinds of waste and can break down even the most difficult materials to defined grain sizes. With its two low-speed rotors with teeth, the Crambo is one of the best machines there is for stoppage-free shredding of all types of wood and green cuttings. Transportation to the worksite is by a hook-lift system or 3-axle trailer.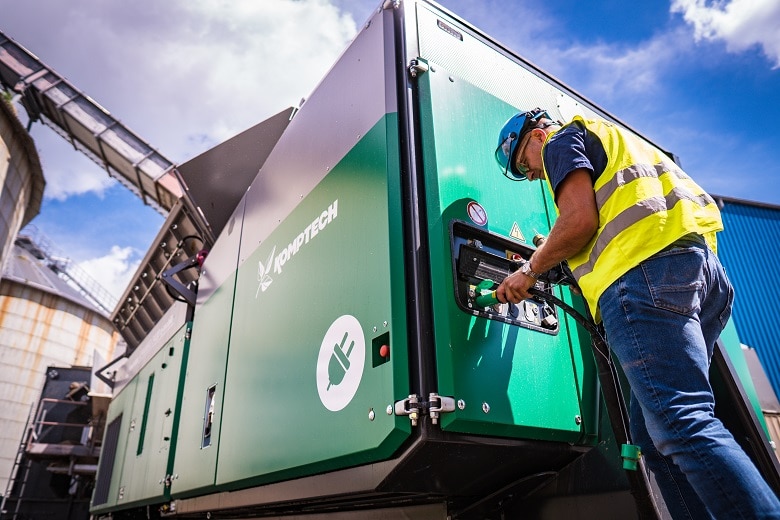 The compact outside dimensions of the e-mobile machines are scarcely different from the diesel-powered Terminator and Crambo. It's a different story in the motor compartment. Here, an electric motor shares the uncluttered space with a switchgear cabinet of protection class IP54, that protects the electronic components inside very effectively against dust and high outside temperatures. The placement of the switchgear cabinet right in the machine makes transportation easier and enables fast start-up at the site. Thanks to the clever single-plug system, one person can connect the power cable alone. Furthermore, with electric drive, the maintenance effort is reduced by up to 50 percent versus the diesel versions.