The combination of AUTOSORT™ and AUTOSORT™ FLAKE allows the recycler to sort and recover more than 30,000 tons/year of PET containers by color and material type and create crystal, green, or light blue PET flakes and HDPE flakes of different sizes and colors. Moreover, Reciclar is the first recycler in Argentina to produce food-grade PET recyclates from post-consumer PET bottles. Based on the purity levels achieved in the sorting process, the recovered materials can be further processed into high-quality PET and HDPE recyclates. The recyclates come with the required qualities for the production of new packaging and bottles with increased recycled content, therefore supporting environmentally friendly resource management and plastic packaging production in Argentina.
Plastic recycling is undoubtedly a challenge of a global scale and South America is no exception. With the aim to support advancing material circularity in Argentina, TOMRA Recycling Sorting and Reciclar, S.A., two important companies in the recycling sector, are joining forces to extend the life cycle of plastics through commitment, innovation, and dedication.
Pursuing this mission, Reciclar recently installed additional TOMRA equipment in order to maximize material recovery in Argentina, where the total volume of plastic recycled in 2021 amounted to 307,000 tonnes of plastics as stated by Ecoplas. This corresponds to an increase of 11% compared to 2020.
For 28 years, the plant, founded by Marcelino Casella, collects, sorts and recycles waste. Only recently, Reciclar added 2 new AUTOSORT™ FLAKE units to its operation to produce crystal, green or light blue PET flakes and HDPE flakes of different sizes and colors.
Using TOMRA Recycling Sorting's advanced PET bottle and PET packaging sorting equipment and technology, the Argentinean company has reached a processing capacity of 600 million plastic bottles and a production of 18,000 tons of plastic pallets per year, becoming the leading company in Argentina in PET waste processing.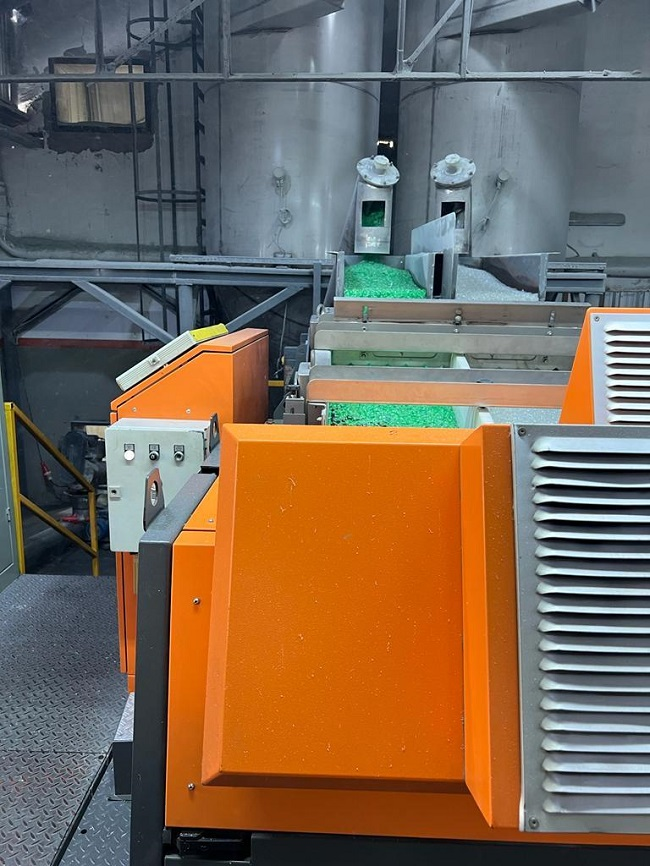 Recovering post-consumer PET and HDPE bottles
Reciclar's main focus is the recovery of post-consumer material. About 95% of its operations is dedicated to the recycling of PET and HDPE recovered from waste originating from different parts of the country. Its advanced sorting and recycling processes allow Reciclar S.A. to produce secondary raw materials with virgin-like qualities. This, in turn, allows the company to satisfy the needs of its most demanding customers both locally and internationally, including the United States, China, Europe and other Latin American countries.
Five years ago, Reciclar levelled up its business by updating its existing line with the next-generation equipment from TOMRA to expand its offering. Since then, the plant additionally sort caps, safety rings and labels made of different materials.
Sophisticated sorting technology
By using the latest sorting technology, Reciclar diverts about 2,500 tonnes of recyclables from landfills or nature every month. The benefits are twofold: on the one hand, fewer materials are lost. On the other hand, more materials are available for further processing and recycling. Reciclar profits from 3 AUTOSORT™ sorting systems from TOMRA. These advanced sorting systems carry out accurate and advanced detection and separation of plastic bottles in the pre-sorting stage. Further down the sorting line, 3 AUTOSORT™ FLAKE conduct a final purification step and sorts plastic flakes by both color and material. Combining both high-performing sorting systems enables the recycler to reach high purity levels in the individual fractions created.
"TOMRA's machinery brings a wealth of advantages: AUTOSORT™ combines advanced features and technologies in a single machine. With its compact and flexible construction, AUTOSORT™ allows for smooth integration into existing and new plants. AUTOSORT™ is equipped with TOMRA Recycling Sorting's patented FLYING BEAM™ technology that ensures excellent homogeneous light distribution across the entire belt and improved detection. Consequently, throughput and operational efficiency are considerably higher and enable our partner to sort PET bottles with a high level of accuracy." Added Julio Barrientos, TOMRA Recycling Sorting's Sales Manager in Mexico.
Apart from AUTOSORT™, Reciclar relies on AUTOSORT™ FLAKE, one of TOMRA's flake sorting machines. It is the ideal solution for high-end applications where the number of contaminants is low, but the quality requirements are extremely high such as in bottle-to-bottle recycling applications. It offers a unique technological combination, consisting of the high-resolution FLYING BEAM™ sensor, a full-color camera and a highly sensitive metal sensor, which allows flake sorting by both color and material.
"All our activities entail social, economic and ecological benefits. With the most advanced processes, we convert waste into recycled raw material and produce highly demanded packaging products, 60% of which correspond to straps that are exported to diverse parts of the continent. Looking ahead, we are motivated to further consolidate our business model", Nicolas Pell Richards, Reciclar S.A. Director.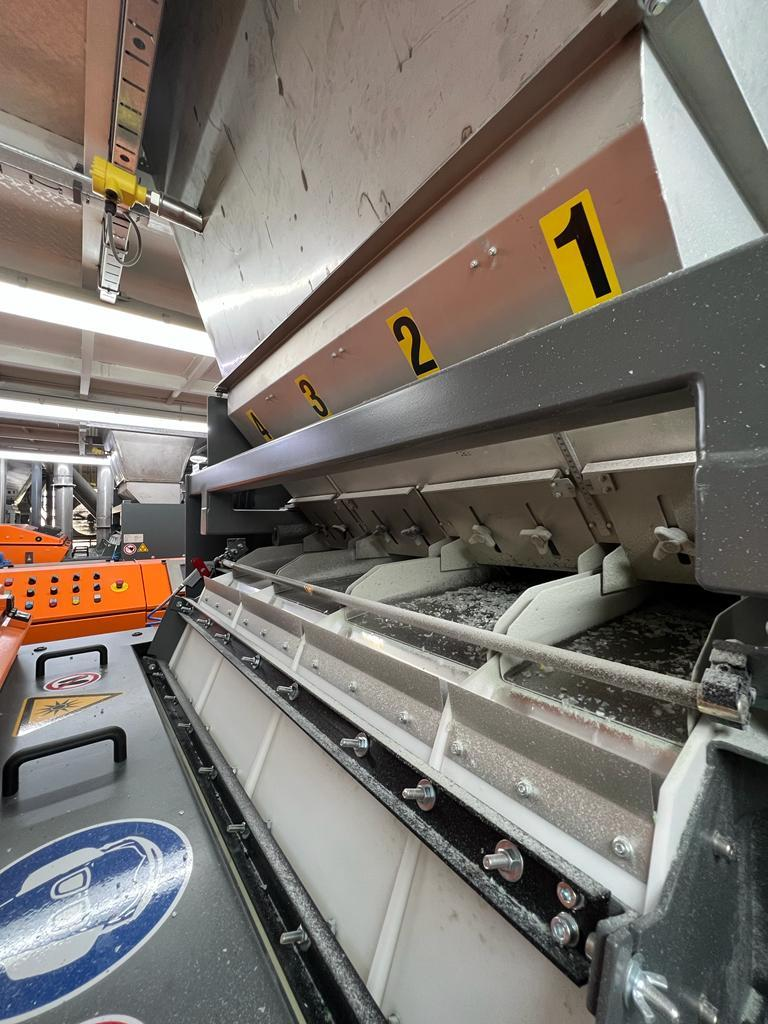 Food-grade qualities
In Argentina, Reciclar is the only company capable of producing food-grade recycled pellets, an achievement empowered by TOMRA's sophisticated sorting units that allow for the recovery of high-quality recyclables.
"We aim to continuously expand both our activities and product quality. The relationship with TOMRA has helped us to fulfill our customer's requirements as well as those of the national and international markets. We increased our processing capacity with the latest technological solutions. We have established that the combination of all these factors is key when we aim to overcome the current ecological challenges," says Nicolas Pell Richards, Reciclar S.A. Director.
To date, the Argentinean packaging industry uses very little recycled material to manufacture new packaging. The food and beverage segment only uses recyclable post-consumer material (PCR) in some PET packaging, which represents 10% of total resin consumption, according to figures from the Circulo de Politicas Ambientales report.
These figures give room for improvement but, fortunately, waste management infrastructures and smart solutions exist to maximize material circularity and divert recyclables from landfill or incineration. Sorting technologies are crucial in this process and should go hand in hand with collection and recycling processes. According to the Círculo de Políticas Ambientales, the management of post-consumer packaging waste is crucial as it represents approximately 30% of urban solid waste in Argentina and is a great source for recovering recyclable materials.
Combined forces to address a major challenge in Latin America
According to World Bank statistics, Latin America produces more than 430,000 tons of waste per day. In other words, each Latin American produces an average of between one and 14 kilos of waste per day. On the other hand, according to GAIA Alliance, the USA Trade Online database of free international trade in the United States reported that between January and August 2020, 44,173 tons of plastic waste arrived from the United States to 15 Latin American countries, which meant the shipment of approximately 35 containers per day to the region.
Reciclar S.A. is the leading PET recycling company in Argentina. In collaboration with TOMRA the company consolidated its activities in the recycling of plastic containers and packaging for the production of PET, PP, and HDPE flakes, pellets and strips. As a result of these achievements, Reciclar has become the only company in the country with ISO 9001:2015 certification for the production and commercialization processes of recycled PET flakes and pellets since 2009.
TOMRA and Reciclar are both committed to supporting the creation of a more sustainable environment and a circular economy for PET in Argentina