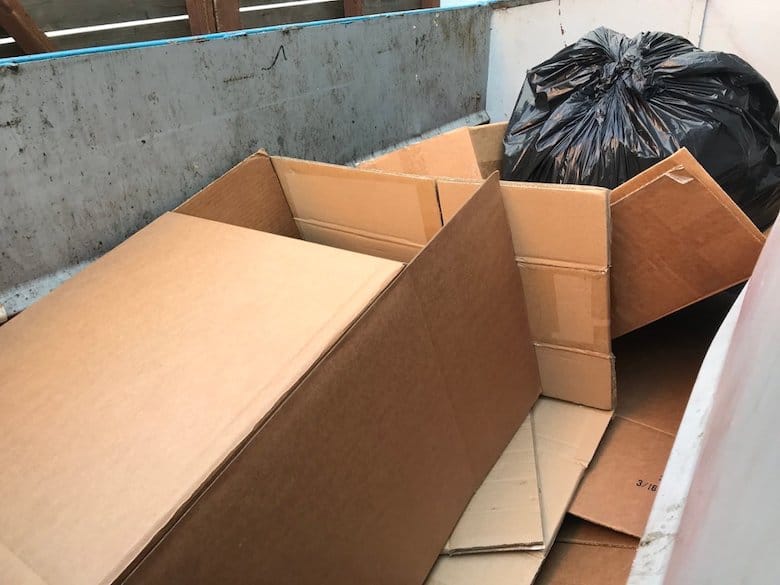 Over the past 20 years, China has been the key factor in driving most of the recycling markets throughout the world. As the country modernized its infrastructure, demand for recovered paper, scrap plastic, nonferrous metals and a raft of other recyclables grew rapidly. It is estimated that as recently as 2017 China imported around 40 percent of all the United States' recyclables, and as much as two-thirds of all the plastic scrap collected globally.
How global factors influenced U.S. recycling and how AI is delivering a solution to the contamination crisis
As part of China's environmental evolution, its shifting policies to curb incoming contamination have rattled the U.S. recycling chain, putting tremendous stress on collectors and processors of recyclables.
China's latest stance has resulted in a steep decline in the volume of recyclables moving from the United States to China and has essentially been the "straw that broke the camel's back" when it comes to a profitable recycling model in the United States. To put the impact on profitability in perspective, the U.S. was exporting $5.6 billion in recyclables to China in 2017.
With China's new policies highly unlikely to revert back, it has become clear there is an undeniable change needed in the dynamic for the U.S. collection/processing sector that tackles the fundamental issue of contamination and the costs associated with purifying our streams.
How China's policy changes over the years have impacted North American recycling and collection
The first whiff of problems hitting the U.S. recycling market came several years ago when the Chinese government complaints about the low quality of incoming materials to their country resulted in the implementation of the "Green Fence." This policy focused on increased inspection of containers of recyclables being shipped into the country.
However, as single-stream collection programs continued to dominate the collection in the U.S., quality levels continued to struggle.
Until 2017, China continued ramping up its appetite for recyclables, contaminated or not, so there was not a significant enough incentive for North American haulers, processors, and governments to make the changes to their processing operations to make a better bale of recyclables and reduce contaminants.
In fact, As China became a more important end market for recyclers, U.S. firms were seeking to increase recycling levels by investing millions of dollars to convert traditional multi-sort recycling facilities to single-stream operations: facilities that encouraged generators to place a much wider range of recyclables in one container. Between 2005 and 2014, single-stream went from covering 29 percent of American communities to 80 percent. This allowed cities to tout higher recycling diversion rates and corporations to point toward their zero landfill status. Meanwhile, single-stream MRF operators often sped up their lines, which resulted in higher contamination levels.
Of course, this all changed as China, under a new "National Sword" policy, imposed rigorous specifications for a large swath of the recyclables that flowed unfettered into the country. While many Chinese buyers were used to taking in some containers of recyclables with contaminants topping 20%, the new policy required any recyclables to have less than a 0.5% contaminant level, essentially eliminating mixed paper and most grades of plastics, especially mixed plastics, from being shipped to China.
The country quickly followed up with its Blue Sky 2018 program, which put even greater pressure to crack down on companies looking to circumvent the restrictions.
The positives and problems of single-stream recycling and why it's here to stay
What is dawning now is that the recycling successes achieve in the United States over the past ten years have been based partly on the greater amount of non-recyclables China and other foreign markets were willing to take. This willingness from foreign markets minimized any drawbacks of and actually strengthened a commitment to U.S. single stream recycling. The strengths of single-stream, as compared to dual stream, are that:
It keeps collection costs much lower
It provides customers with increased convenience. A recent Harris Poll shows that 66% of people wouldn't recycle at all if it wasn't easy to do so.
Most larger hauler operations are already fully committed to it. As an example, Waste Management has 44 single stream facilities compared to 4 dual streams.
Convenience, however, creates a challenge for single-stream in the form of "wishcycling", or consumers expecting that whatever they put into recycling dumpsters will sort itself out. In this new environment, the result is unacceptable levels of contamination.
"[T]he market for recycled materials is broken. We have equated collection with recycling when in reality that is just the first of many steps to ensure complete reabsorption of resources." – Nina Butler, More Recycling, Plastics Recycling Update, February 2018
Brent Bell, Waste Management's vice president of recycling operations, penned a letter late last year, noting that partly due to single-stream recycling programs the average contamination rate among communities and businesses is now hovering around the 25 percent level. With these high levels of contamination, the costs to process the recyclables has increased significantly. Adding to the problems, prices for many municipally generated recyclables have dropped significantly, creating the perfect storm for all parties in the recycling sector.
The result has been mixed. Some waste collectors have been able to renegotiate contracts, reflecting the significant change in the value of most post-consumer generated material such as mixed paper, plastic scrap, and cardboard. For companies that have been unable to renegotiate contracts, options taken have included requesting exemptions to landfill materials that have no end markets. Other steps include implementing fines for containers that include non-recyclable materials or declaring force majeure to get out of impossible contracts.
As the higher costs to clean up recyclables and lower market prices clash, the result has been the closure of hundreds of recycling facilities and an elimination of a formerly reliable income stream for haulers. To reduce financial difficulties, other recyclers have made changes to the materials they can handle or even backed out of programs that are not able to give the company a fair return on investment.
In Oregon, the state's Department of Environmental Quality notes that a growing number of recyclers and haulers in the state have been requesting disposal concurrences, which means material traditionally recycled are now being redirected to landfills. The state agency has reported that since September 2017, Oregon has received 26 disposal concurrences, which is equivalent to about 2 percent of all the material collected for recycling in the state.
Dedication to single-stream means a necessary commitment to education and technology
Clearly, diversion to landfills isn't a sustainable business model or a socially responsible one in the long-term. The industry is in need of a sustainable and profitable business model for recycling to keep pace with an evolving global economy.
Adding more manpower or utilizing expensive robotic machinery for more scrutinized sorting is expensive and can take a long time to implement, while contract terms and customer price sensitivity make it difficult to pass through these increased processing costs.
Of course, some haulers have already started diverting material away from China, but smaller markets have limited demand for imported recyclables and, in time, they too will close their ports to contaminated recyclables as a result of evolving environmental policy. For example, Vietnam and Malaysia have already stopped issuing licenses for waste imports. Capacity-wise, Steve Wong, managing director of Fukutomi, a plastic recycling and trading company in Hong Kong said Southeast Asia cannot handle even half of the volume China imported in the past.
"The abrupt China ban leaves [Southeast Asian] countries unprepared to receive the huge influx of waste," said Steve Wong, managing director of Fukutomi, a plastic recycling and trading company in Hong Kong. "Containers of plastic scraps are often found stuck in the water near the ports due to the lack of port facilities and qualified disposal plants. In some extreme cases, shipping companies would abandon the containers so they don't have to bear the expensive parking fees."
More importantly, however, this approach doesn't address the root of the contamination problem.
Other haulers attempt to remedy the situation through "lid-flipping". This presents a set of problems as well. Based on research with clients, this can cost around $2 per flip, per dumpster. At the rate this would need to be done to actually catch contamination at the curb and have a positive impact, the costs would be astronomical. Additionally, this method doesn't provide a uniform, objective determination of contamination and relies solely on the discretion of the person flipping the lid. Lastly, these spot checks only allow visibility to the surface of any bin and don't give a full picture of the level of contamination.
To be truly effective in resolving the contamination crisis, technology allowing for remote monitoring of disposal at the curb will allow haulers to attack contamination at the source without additional manpower. Some haulers attempt to monitor manually by "lid-flipping" but that method limits data points and incoming information is costly and adds a burden to an industry already struggling with a labor shortage. Remote access to timely information on what's happening inside the dumpster will provide haulers and generators with highly-targeted education and action plans and also allow haulers to take the necessary steps needed to keep streams clean on the front-end to avoid an increase in costs at the MRF. There's already artificial intelligence technology, such as Compology, at work that automatically identifies, continuously measures and provides contamination alerts, empowering haulers, generators and municipalities to take the timely and necessary actions needed to eliminate contamination from the single stream. With the more recent shift of the global mindset towards living, acting and operating more sustainably aligning with advancements in artificial intelligence technology, the U.S. waste, and recycling industry can be a leader in eliminating contamination, improving recycling and pushing towards zero waste and diversion achievement all while reforming recycling collection and returning to profitability.
This article is published by
Moving the Waste Industry Forward
We started Compology with a purpose: to bring efficiency to waste and recycling services through accurate, timely container data collection. With our web-based monitoring software, powered by our container-based sensors, we're helping haulers, generators and municipalities thrive. Compology's software ...