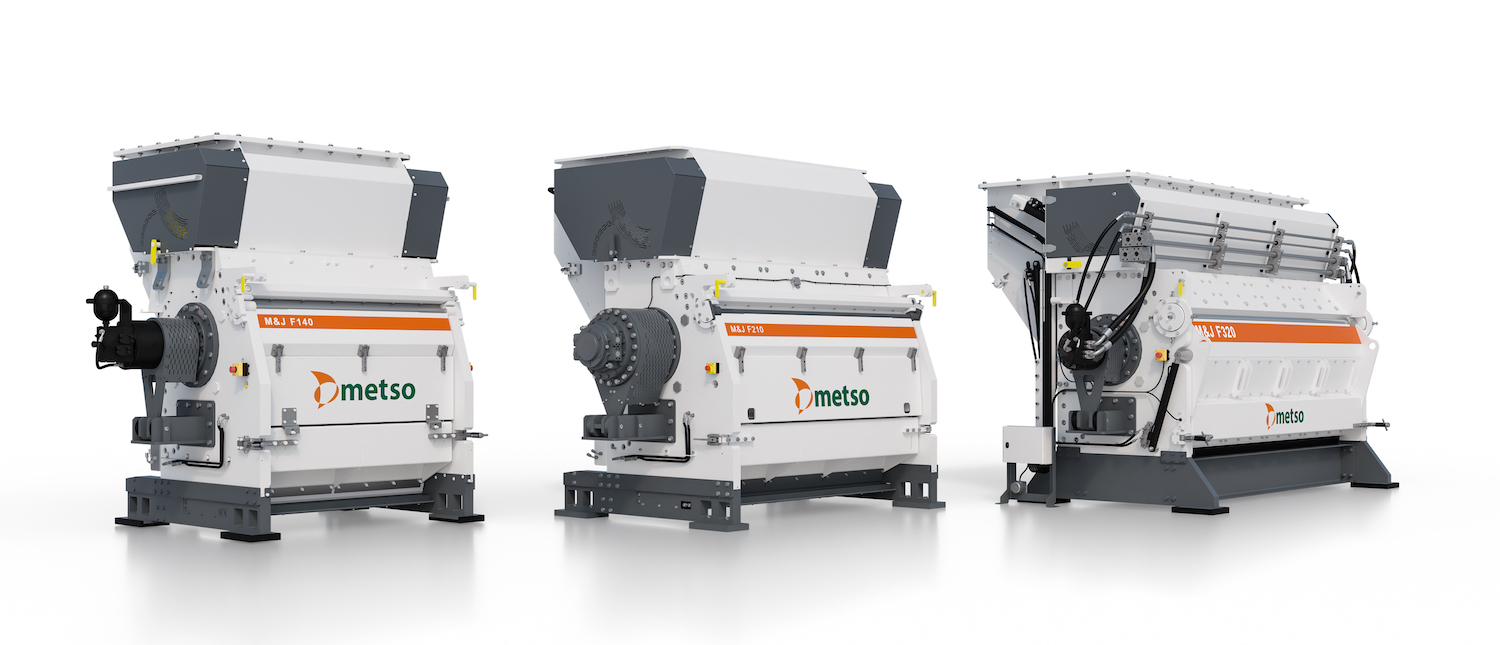 Metso Outotec Waste Recycling is now seriously strengthening its position in the market for reliable FineShredders for high-efficiency production of alternative fuels like RDF/SRF. The new M&J F-series can be adapted to virtually all fractions and capacity requirements up to 23 t/h at 50mm and 28 t/h at 100 mm.
The new M&J F-series consists of three members – M&J F140, M&J F210 and M&J F320. The series can therefore meet the capacity needs of the vast majority of customers – not least because the pusher adapt easily and quickly to different materials, without even stopping production. Here is an overview of the capacity potential of the three models:
M&J F320 up to 23 t/h and M&J F210 up to 16 t/h and M&J F140 up to 11 t/h (90% below 50mm)
Focus on stable operation and quality output
The M&J F-series offers leading cutting technology and a cleverly designed rotor. This means high-efficiency FineShredding of qualified materials, making it particularly suitable for the production of alternative fuels like RDF/SRF. The FineShredders deliver a homogeneous output in the desired size down to 10 mm. In addition, the machines leave a very small number of undesired fines.
Minimal maintenance, a unique cutting system and less heat generation (no downtime due to molten plastic) are just some of the many other benefits of the new M&J F-Series. The ambition is simply to give the customer the highest uptime on the market.
Maintenance is kept to a minimum
The FineShredders are extremely flexible. You just decide the output size and the pusher adjust to meet your needs. The series is also designed for quick and easy servicing and maintenance through easy access to spare and wear parts. In addition, the highly efficient knife system requires virtually no maintenance or adjustment.
"The engineers have really outdone themselves with the M&J F-series, so as to make life as easy as possible for the customer. In addition to the well-known Metso Outotec Waste Recycling build quality, you can enjoy a FineShredder that keeps energy and operating costs to a minimum. We have matched and exceeded our customers current and future needs." Morten Kiil Rasmussen, Commercial Director, Metso Outotec Waste Recycling
This article is published by
Your leading expert in waste shredding
M&J Recycling – the former Metso Waste Recycling – specializes in the design and manufacture of industrial waste shredders to reduce the size of waste materials effectively and reliably. With more than 1,000 installations worldwide and with our continued focus on R&D innovation, we are one ...