Before, the packaged artificial mineral fiber was unloaded in the designated area, covered with suitable material, and compacted by weighing it down and later driving over it. With the help of the new two ram baler, the compaction of the material has increased fourfold. The bales have the dimensions 1,100 m x 1,100 mm x 1,400 mm and weight of 1.2 – 1.6 tons.
How does it work?
To shortly describe the process, the bags with the material are placed into the feed hopper from where they travel via an airlock system further into the pressing chamber of the baler. In the first step, they are pre-compressed with the help of hydraulic pre-compression flaps. Then the main compactor with 210 t pressing force compresses the bags into a cuboid-shaped bale. The auxiliary baler then ejects this bale with 120 t pressing force laterally from the bale channel directly to the wrapping unit where it is immediately wrapped. The finished bale leaves the machine via another airlock on a conveyor belt.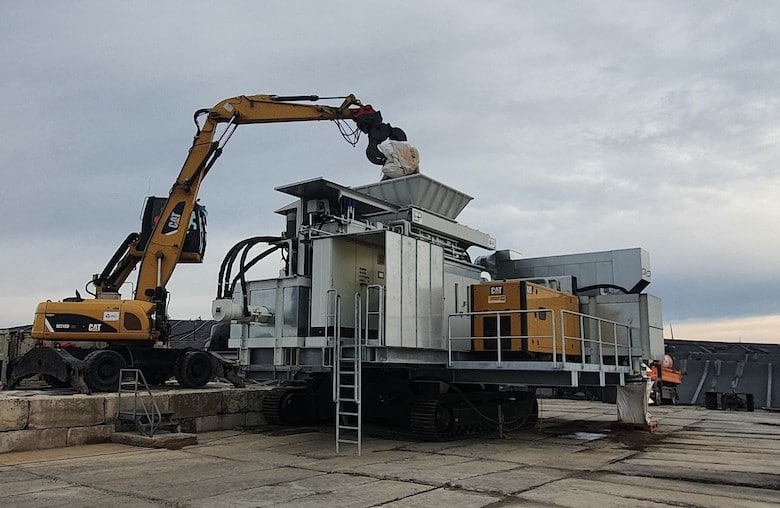 What makes this baler so unique?
The special feature of this baler designed for insulation material is that it is the only one of its kind in the world to have a negative pressure or active suction system, for the entire manufacturing process. The exhaust air is cleaned by a multistage filter system (H14, separation efficiency > 99.995%), ensuring no fibers are emitted.
Another unique selling point of this machine is its mobility. It is mounted on a caterpillar chassis and can therefore be driven close to the required installation location. The entire machine is 12,500 x 11,400 x 6,700 mm and weighs about 120 tons.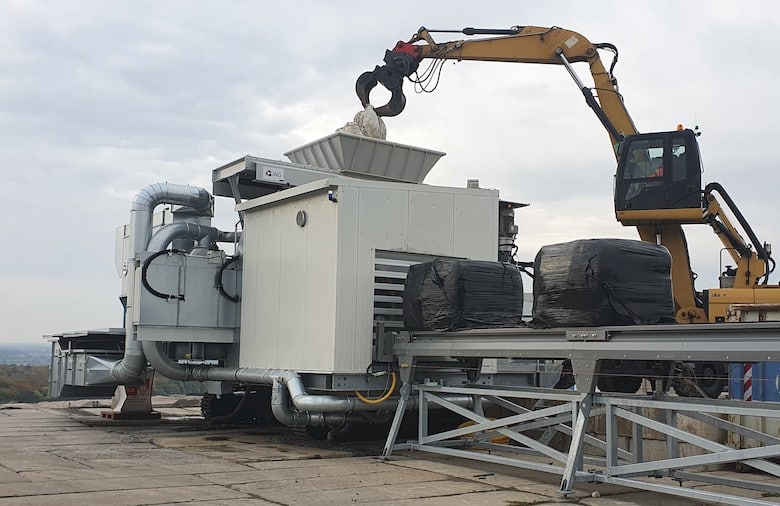 This not only makes it the first baler of its kind in Germany, but used on a landfill, it enables short, and therefore low-emission and efficient, material transportation to the place of disposal.
Although this machine is meant for compacting insulation material, of course, it can be used for compacting a variety of other materials. Moreover, if the two ram baler was designed for compacting harmless material, it could also be equipped with wire tying instead of a wrapping unit (or even a combination of both).