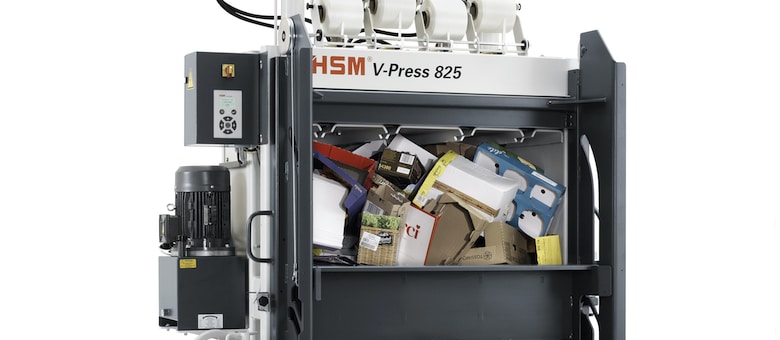 HSM baling presses reduce the volume of valuable materials by up to 95 % and, with the unmixed bales, produce a secondary raw material, which is reintegrated into the recycling circuit. Positive side effect: The bales have considerable market value when they are above a certain weight.
The HSM V-Press models combine the quality requirements of HSM with high profitability. Their performance and longevity make them an economical waste management solution. The HSM V-Press reduces costs at the usually underestimated "waste disposal" cost center.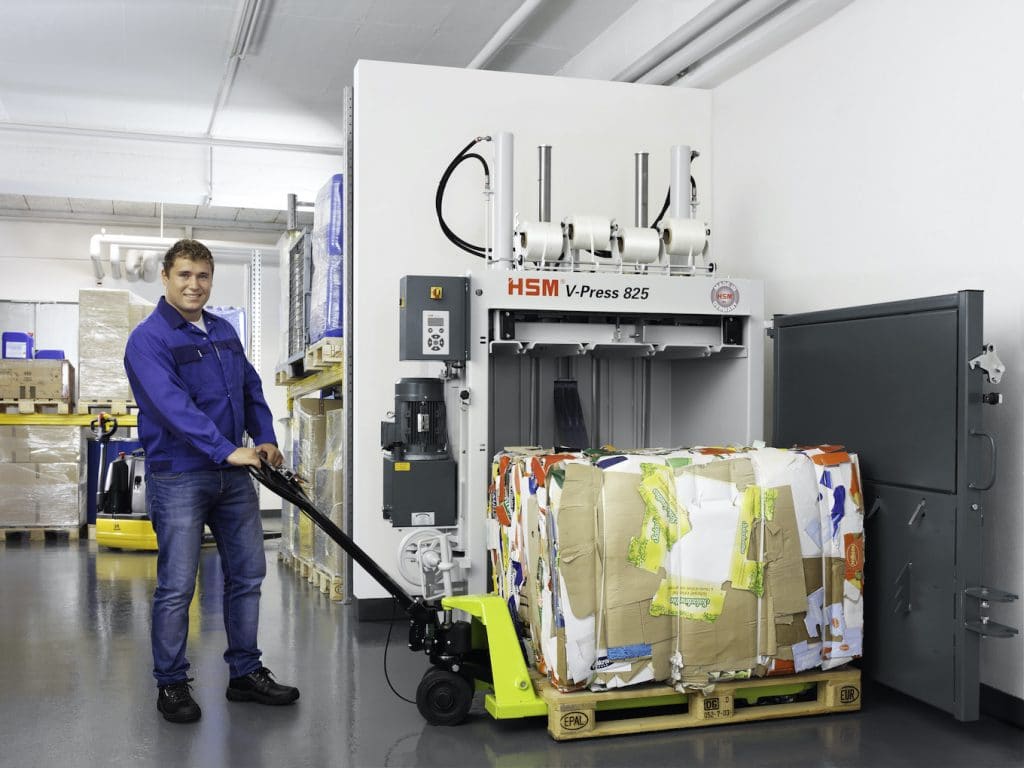 The HSM V-Press 825 is characterized by its very low transport height and installation area. With a pressing force of 250 kN and the low-noise and energy-saving rapid traverse technology, it is an economical and environmentally friendly solution for many disposal tasks. Special hydraulic cylinders with a hard chrome-plated piston rod reduce wear, avoid malfunction and thus increase the service life. Thanks to the special HSM TCS (TorsionControlSystem), the inclination of the pressing plate in all directions is continuously monitored. This prevents one-sided loads, optimizes the pressing process and thus ensures a long service life and a high process guarantee. The machine is controlled and operated by modern microprocessor control and a comfortable membrane keyboard with a graphic-capable text display, which shows the actual state of the machine. The bales, with the maximum dimensions of 1200 x 780 x 700 mm, achieve a material-dependent weight of up to 280 kilograms and are held together by a four-fold polyester strapping. A robust mechanical bale ejector belt makes it comfortable to remove the bales.
The vertical baling press is available in two versions, plus – with filling flap and handwheel door lock and plus pro – with sliding door and handwheel door lock.
This article is published by
HSM develops, produces and sells products and systems for compressing materials as well as for shredding paper and electronic data media. Hermann Schwelling Maschinenbau GmbH + Co. KG was founded in 1971 in Salem and started a year ...