The heat produced from tire-derived fuel is approximately thirty percent higher than that of coal and more than twice that of wood. Tire-derived fuel also provides lower sulfur oxide emissions when compared with coal, which has a higher sulfur content. Furthermore, combustion of tire-derived fuel provides better operational consistency than other fuels used in waste-to-energy systems.
CM Shredders has long been at the forefront of game-changing innovations and has led the charge into waste-to-energy solutions with the development of fully integrated and turnkey TDF, Pyrolysis and Crumb Rubber Systems. CM recycling systems are hard at work in hundreds of locations spanning 5 continents, in more than 28 countries and are processing over a half a billion tires each year worldwide.
CM Shredders has recently announced the delivery of two new fully integrated and turnkey tire derived fuel shredding systems deployed in the U.S.A and U.K
In the great plains of Texas U.S.A, Aquamatrix, Inc a privately-owned surface mining and recycling company took the keys to a turnkey high capacity CM Shredders TDF system in January. The CM tire shredding system is capable of processing whole tires at 20+ tons per hour. The system is integrated to feed clean cut TDF chips pneumatically into the cement burning kiln for one of the largest cement manufacturers in North America.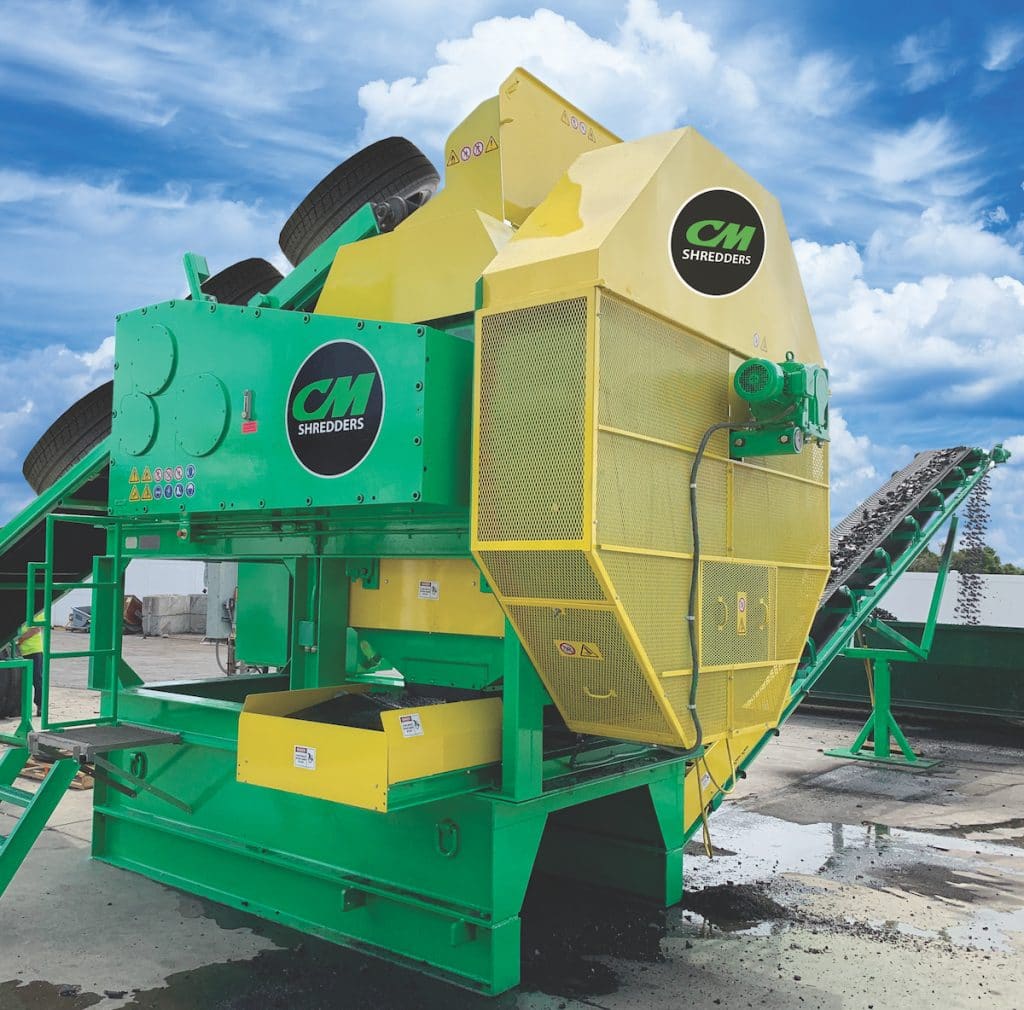 Across the Atlantic and based in the picturesque town of Castle Carey, UK, Tire Renewals Ltd is a well-known and highly regarded family owned business that has been operating since 1967. Today Tire Renewals provides a comprehensive list of Tire services that include Tire collection, shredding and granulation, TDF and the sale and production of granulated rubber products. As Tire Renewal's management planned their next expansion and business evolution they knew choosing a high quality and reliable recycling equipment line was going to be a key cornerstone to their business model.
After meticulous research and countless hours comparing build qualities, technologies, cost of operations and outright reputations within the industry the decision was made to partner with CM shredders and commission a new turnkey CM Dual Speed Chipping shredder system as the company's flagship in their new recycling line.
The system is capable of processing 8 to 12 tons per hour of whole tires to a clean cut 50mm chip in a single step while producing consistently sized and clean cut tire chips for Tire Derived Aggregates (TDA), Tire Derived Fuels (TDF,) or for preprocessing for crumb rubber applications. The CM machine is currently traversing the Atlantic seas between CM Shredders manufacturing facility and headquarters based in Sarasota, Florida, and the great Island of the United Kingdom. The machine will be fully operational at time of this articles publishing.