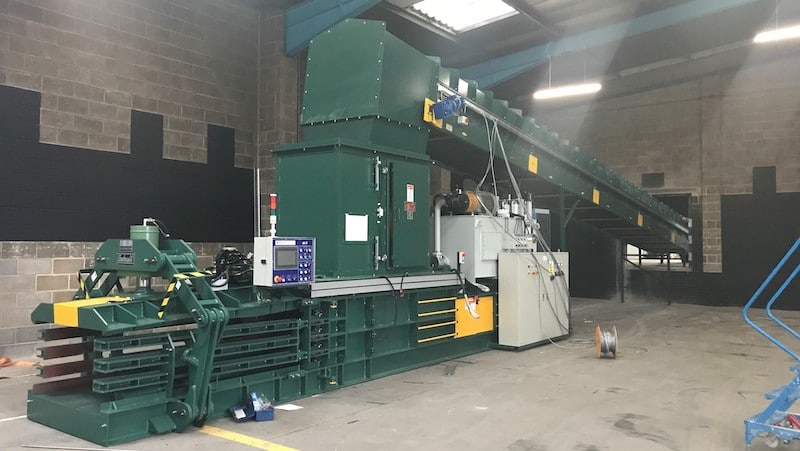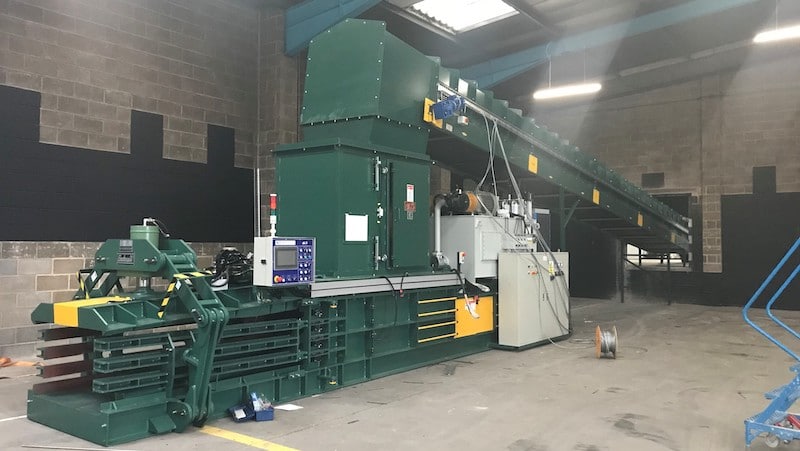 Manchester-based manufacturer, Whitham Mills, has just completed an installation for repeat customer Russell Richardson who is one of the UK's leading document management and confidential shredding companies based in Sheffield.
Russell Richardson required an additional baler and a heavy duty conveyor system to be installed in their new premises. Now in their 40th year of trading, Russell Richardson recycles and disposes of over 200 tonnes of paper waste on a weekly basis.
Recently commissioned, the sites new recycling system consists of a fully automatic GB1108F baler fed by a 1200mm wide rubber belt conveyor as well as a heavy duty chain conveyor that feeds the shredder which shreds confidential waste. Equipped by Whitham Mills, the site can now bale round the clock, and produce consistent bale weights of over 620kg at a throughput in excess of 11tph. This is now the third baler installation completed by Whitham Mills for Russell Richardson.
Alongside this brand new install Whitham Mills have also been tasked with relocating their existing baler down the road to their new 30,000 sq ft site which sits on the Rotherham-Sheffield border, and then reinstalling and commissioning the existing equipment. Whitham Mills have also supplied a new conveyor system to streamline their materials handling process ensuring an increased efficiency at the new site.
Whitham Mills are constantly on hand to support Russell Richardson in their baling process who have signed up to a service and maintenance contract for the next 12 months post installation to ensure the site is working as efficiently as possible.
The MD at Russell Richardson commented "Our equipment is critical to keeping our business up and running, so it's imperative that we have suppliers we can rely on. The reliability and helpfulness of everyone at Whitham Mills means we now regard them as a long-term partner for Russell Richardson."
Ben Smart, Whitham Mills Managing Director added "Working with a business already knowledgeable about the waste management industry and the equipment required allowed for a more collaborative approach. The equipment supplied can comfortably bale their current material requirements but also their future projected throughputs."
This article is published by
Designer and manufacturer of fully automatic baling systems - for cardboard, paper, plastics, RDF and cans. Whitham Mills Engineering Ltd is an ISO quality assured company based in the North West of England, providing a comprehensive range of highly-efficient, reliable and profitable recycling equipment. We serve a wide client base covering the whole ...