The company's expanded recycling division takes materials from post-consumer and industrial environments—including parts, scrap, purge, or chunks—and efficiently transforms the previously-used plastic through a grinding, sorting, and bailing process. Once recycled and ready for re-use, Adams Plastics sells the material both domestically and internationally.
Introducing plastic regrind back into the market involves several critical challenges, one of which is detecting and eliminating very fine pieces of scrap metal embedded into the post-consumer or industrial plastic. Adams Plastics found a cost-effective solution by purchasing a series of Rare Earth Magnetic Separators developed by Eriez®, based in Erie, Pennsylvania.
According to Adams Plastics President Peter Silberman, the company was researching various methods to improve productivity, reduce machine downtime and clean up material streams. Removing ferrous contamination from the free-flowing plastic regrind became a priority for the plant.
Rare Earth Magnets Bring a Solution
"We were looking for a solution to our metal contamination problem and approached Eriez at a trade show," Silberman recalls. "After some discussion and product testing, we installed a 10" x 10" Eriez Rare Earth Grate Magnet underneath the discharge hopper from our cyclone unit. The granulated plastic then drops into a Gaylord box. We then periodically clean the magnet of all the metal particles it captures."
Since that initial purchase, Adams Plastics has also installed two Eriez Rare Earth 10 ½" x 5" Grates in Housing and an Xtreme® Rare Earth 10" Tube Magnet. "The magnets allow us to recover small metallic shavings—some microscopic at best—to keep our regrind as pure as possible. A high level of purity is extremely important to our customers in the Midwest and throughout North America and overseas," Silberman says.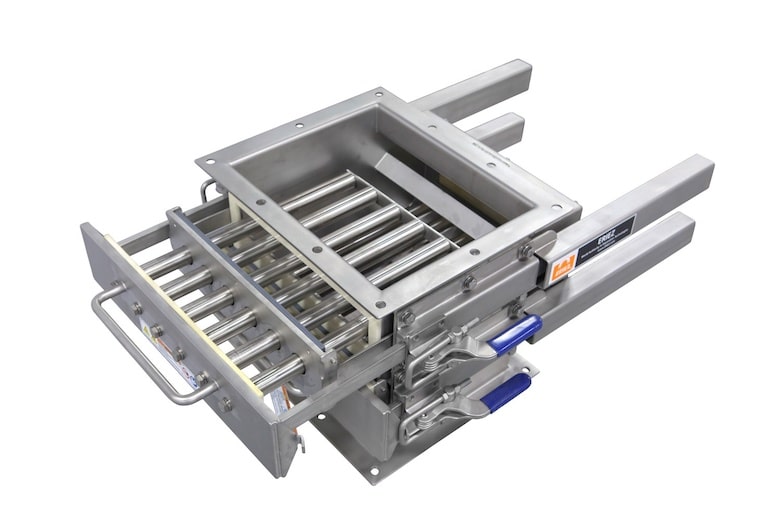 When Adams Plastics began in Chicago in 1967, the company primarily focused on PVC film for loose-leaf binders and specialty advertising. The company's plastics division has since grown to include imitation leathers and laminated vinyl. Another growth area is its recycling division, where Silberman says he sees untapped potential.
"We truck in post-consumer plastic from a variety of sources within a 400 to 500-mile radius of Chicago, then sell 80 percent of the recycled plastic domestically and export the remaining 20 percent to the Pacific Rim and Mexico," notes Silberman. "We now produce 25 to 30 million pounds of recycled plastic annually."
The recycling division grew exponentially when Adams Plastics landed a contract from a U.S.-based beverage brewing company to recycle its coffee-brewing machines, Silberman says. That contract resulted in 7 million annual pounds of plastic which needed to be reground and then purified of metal contamination.
That influx of business caused Silberman and staff to re-examine the necessity for metal purification and set off their search for a solution. "Up until that time, we did not have a consistent procedure to remove pieces of metal contamination during regrind," he says.
"We discovered that one 40,000-pound container of recycled plastic going to a customer had metal fragments. At this point we knew we had to find an answer and began our discussions with Eriez," he recalls.
The company now efficiently handles a variety of post-consumer plastics, including rejected plastic parts from auto manufacturers and rejected plastic bottles from nearby bottling plants, among other sources. The efficiency of the Eriez Rare Earth Magnets brings more purity to the plastic regrind, resulting in a higher resale value. "It's important our customers have peace of mind knowing the product they receive is free of metal contamination," Silberman says. "They trust we are eliminating metal from our plastic regrind before the shipments leave our facility. Using Eriez equipment helps us to effectively accomplish this task, which protects and strengthens our long-term relationships with our customers."