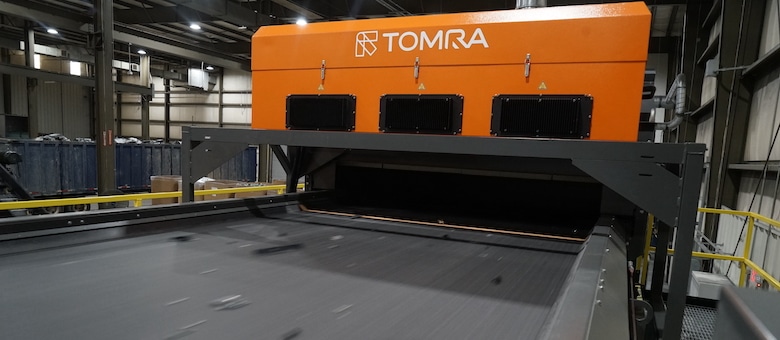 Premier Surplus automates E-waste processing with TOMRA AUTOSORT® FINES to take efficiencies to the next level.
Electronics waste processing is extremely challenging. The material feed landscape is ever-changing with varied circuit board colors and multiple types of plastics used in electronics. "Manufacturers are producing green, yellow, blue, and red circuit boards, and we even see some black circuit boards now," comments Phillip Kennedy, VP of Premier Surplus, Dawsonville, Ga.
For this reason, the material recovery division for Premier Surplus manually sorted the varied material stream, ultimately focusing on the high-valued product, printed circuit boards (PCBs). "We are urban mining," he adds, "searching for gold, copper, aluminum, steel, and plastics, so they are not sent to the landfill."
For the last 20 years, Phillip and his wife, Stephanie, have grown the business and increased E-Scrap sorting efficiency. Starting the business out of their garage, today Premier Surplus operates out of a 62,142-m2 (137,000-ft2) facility that houses multiple divisions dedicated to refurbishing and recycling electronics.
Premier Surplus's growth was driven by bringing on new accounts for a consistent inflow of electronics and finding new customers for the recycled material. "We have a good portfolio of customers, which includes manufacturers, schools, governmental agencies, and larger corporations," says Kennedy. They also had a growing portfolio of customers for their E-Scrap, but some were out of reach. "We spoke to smelters to see if they would accept 3,629 kg (8,000 lb) of material a month. They required 11,340 kg (25,000 lb) per month before they would consider us," explains Kennedy.
Expansion with TOMRA-anchored automated circuit
Initially, Premier Surplus added a shredder to help increase E-Scrap sorting efficiency. The company processed about 9,072 kg (20,000 lb) of E-Scrap a day with manual sorting after shredding and screening. However, that was not enough, and hand sorting limited growth potential. "Premier Surplus needed a complete automated circuit with an optical sorter to take their operation to the next level," adds Eric Thurston, sales manager metals – recycling for TOMRA Sorting, Inc.
To take that next step, Premier Surplus, the largest family-owned E-Scrap recycling operation in the state of Georgia, installed a 66.1-m (217-ft) long fully automated shredding and sorting circuit. The circuit adds an eddy current station to the shredder and is anchored by the TOMRA AUTOSORT® FINES optical sorter to increase sorting accuracy and material purity.
"Our metals customers only want metals and our plastics customers only plastic. That is what AUTOSORT® (FINES) delivers," says Kennedy. The automated circuit expanded E-Scrap processing capacity by 300% versus manual sorting. The operation now recycles up to 27,216 kg (60,000 lb) of E-Scrap every day and, in 2019, recycled 9,071,874 kg (20 million lb) of material.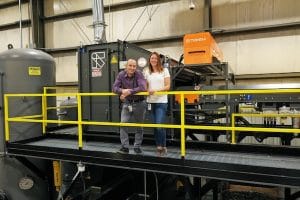 The efficient sorting circuit includes a triple-shaft shredder to effectively liberate the material, and a post-shredder screen to remove fine material from the stream. "Pulling the fines from the flow at the beginning helps to improve the circuit's efficiency," comments Thurston. The remaining material is conveyed to a Javelin eddy current machine for aluminum and copper recovery prior to sending material to the AUTOSORT® FINES for enhanced separation.
Kennedy enlisted the E-Scrap recycling expertise of Peter Prinz, owner of Prinz Consulting, who has 45 years of scrap and material recycling experience, to help design the circuit and offer suggestions on components. "I recommend the best components for E-Scrap processing, and over the last 16 years, I've found TOMRA sorting equipment excels in E-Scrap applications," says Prinz. "TOMRA offers 30-40% better recovery than other sorters, and AUTOSORT® (FINES) will recover about 75-90% on the first pass." The optical sorter allows Premier Surplus to selectively sort plastics, lower grade PCBs, wire, and metals with high purity.
Beyond the technology and support, there was one intangible that drew Kennedy to TOMRA for anchoring the automated sorting circuit. "TOMRA doesn't just make equipment. They have a work culture focused on recycling," he says. "They are committed to the plastics crisis, sustainable technology, and the circular economy."
Ever evolving feed
Kennedy says the flexibility of AUTOSORT® FINES' technology helps Premier Surplus earn its success since the E-Scrap material stream is constantly changing. AUTOSORT® FINES combines electromagnetic, near-infrared (NIR), and visible spectroscopy (VIS) technologies to selectively sort feed by color and material composite. "Our FLYING BEAM® technology evenly distributes the light over the entire belt for better recognition. The sensor detects the specific wavelength of light in NIR and algorithms classify the material to decide whether to drop or eject material," explains Thurston.
During the initial sort, Premier Surplus drops the plastic and ejects circuit boards, wire, and non-ferrous material. "We are getting about 95% material recovery on the first pass, which is better than we anticipated," says Kennedy. AUTOSORT® FINES makes it easy for Premier Surplus to run the ejected materials for further processing, which enables the company to sort individual product packages, such as low-grade PCBs, wire, stainless, and metals.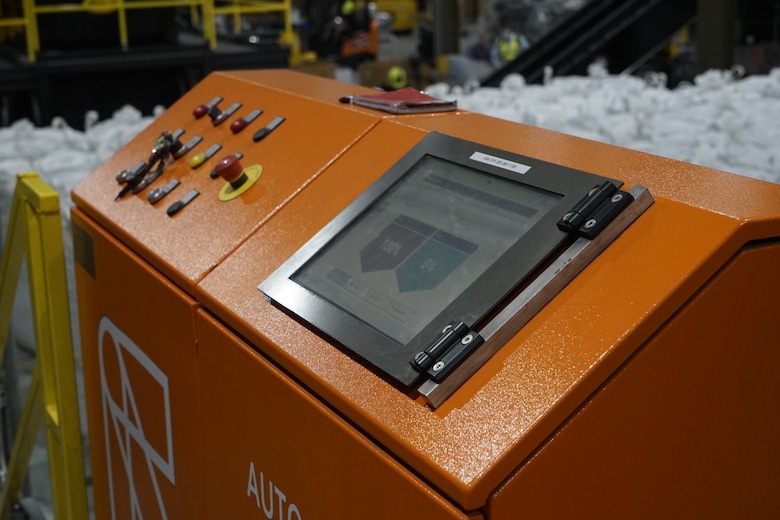 Kennedy explains that Premier Surplus has created their own "recipes" for running batches of materials such as printers, set-top boxes, or automation equipment. AUTOSORT® FINES identifies the material to be removed from the stream to create a good, clean final product. "The machine's customer interface stores different sorting programs and allows the operator to quickly switch between programs to match the material stream," explains Thurston.
A year and a half into operating the automated circuit, there is no second-guessing that Premier Surplus made the right equipment selection. "We definitely made the right choice with TOMRA. I really have to give thanks and praises to everyone that was involved in this project," says Kennedy. "The demand for properly recycling e-waste is there. That is why the Premier Surplus team stands ready to do our part in keeping material out of the landfill and, at the same time, protecting our customers' data and reputation."
This article is published by
TOMRA Recycling's pioneering industry expertise continues to result in state-of-the-art machines and exceptional service within the waste and metal recycling industries. Our goal: support our customers to optimize their sustainability and operational value. Our method: use our established and renowned industry expertise to provide state-of-the-art ...