The incineration specialist is supplying urgent and life-saving waste management solutions that can cope with hazardous, bio-medical and municipal waste in Darfur, Somalia and the Abyei Area at the flashpoint border of North and South Sudan.
With a tender response that proved the British manufacturer as the go-to strategic partner and best in the world to assist in these missions, Inciner8 has begun the process of installing incinerators on-site within the war-torn areas, training unskilled workers to operate the equipment and monitoring its safe and efficient use.
Inciner8 is a global specialist in the provision of waste management solutions for humanitarian crises. The company has helped keep disease and infection at bay by installing incinerators at refugee camps and was instrumental in minimizing the spread of Ebola thanks to its safe provision for the eradication of contaminated waste in Liberia. It was also called upon to deliver solutions for the safe disposal of contaminated waste in South East Asia during the SARS outbreak.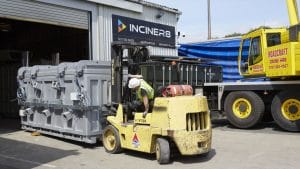 "As a dedicated supplier to worldwide humanitarian efforts, we are committed to finding tailored waste solutions to very complex, and very urgent, situations across the globe. Manufacturing and deploying incinerators that safely dispose of all kinds of waste is essential in keeping civilians and aid workers away from extra harm in already dangerous environments.
"The projects come with specific and often extreme challenges. Sudan's arid conditions and tropical climate requires robust equipment. For all locations, ease of use was also key, in addition to the equipment being uncomplicated to disassemble and move, should there be an urgent requirement to relocate.
"Being awarded these three contracts means a great deal to us at Inciner8. We are committed to the effective management of waste and never is it more pressing than in an area of conflict. It is humbling to know that the equipment we worked on is helping to keep vulnerable people safe and providing a desperately needed solution for those overseeing these vital peacekeeping missions."