The process of car recycling is quite complex. All fluids need to be drained and removed, battery, airbags and catalytic converters have to be taken out. Further valuable parts are sorted out manually (main engine, gear, etc.)
What to do with the remaining car body? HAMMEL Recyclingtechnik GmbH has engineered a complete mobile metal processing plant to shred and sort this kind of material.
In the first step, the car bodies are shredded with the help of the HAMMEL slow-speed shredder. The well-known RED GIANT – now available in a new modern design with special features, is equipped with a powerful CAT C18 TIER4FINAL engine with approx. 563 kW. The infeed of the input material is optimal via the two special counterrotating shafts.
After shredding the output material is transported to a mobile metal screen MMS 150 DK. The integrated vibration finger screen separates the material smaller than 150 mm. The oversize can be transported back to the shredder. The screened material passes over the vibration chute to the magnet drum for separating ferrous from non-ferrous material.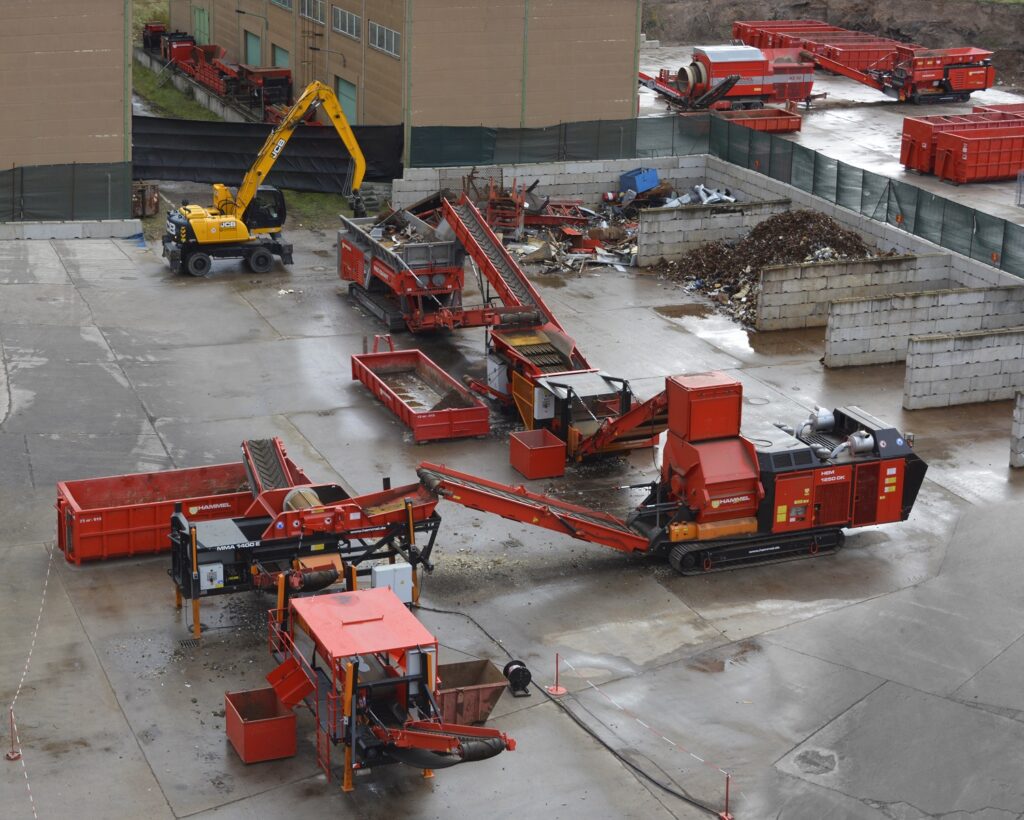 For further processing, the ferrous parts can enter into a secondary shredding stage, e.g. the HAMMEL high-speed secondary shredder type HEM 1250 DK. The eccentric discs shred the material down to an end product size of appprox. 0 – 50 mm with a small percentage of oversize.
A semi-mobile eddy current separator type MWA 1000 E sorts the non-ferrous parts into aluminum and fluff. The HAMMEL metal plant can also be completed with sorting belts for the manual picking of stainless steel, copper, and other materials.
All components are connected to each other and the electrical machines can be driven by an integrated generator installed in the screen MMS 150 DK. The advantage is that this plant can be installed at any place.
The main goal for processing used cars with the HAMMEL plant is the separation of different material streams in a simple and cost-effective way. The complete line handles approx. 20 – 25 tons per hour depending on continuous feeding, which enables a high return on investment.