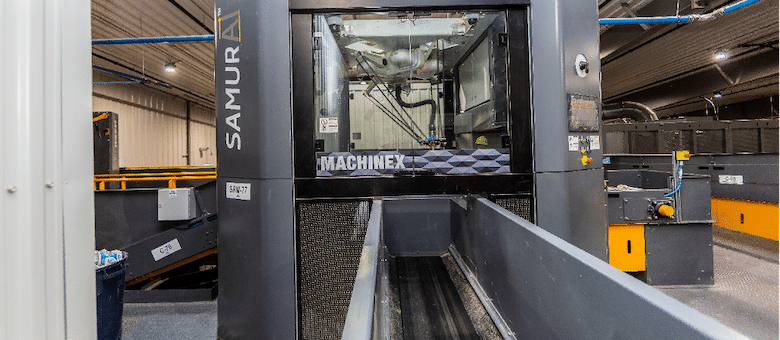 In current times, hiring sorting operatives is becoming increasingly more difficult, and recovery and purity levels are becoming more elevated.
In current times, hiring sorting operatives is becoming increasingly more difficult, and recovery and purity levels are becoming more elevated.
Therefore, automation is a recognized solution for reliability and performance. The future of the MRF is about increased technology, and robots have a great role to play, robots offer a large range of benefits for operations, using cutting-edge technology equipment, to take sorting into the future.
One of our experts, Will Herzog recently participated at the MRF Summit last November, as part of a panel discussion with several other industry specialists. This discussion covered the role of automation and new sorting technologies, such as robots and artificial intelligence (AI).
As a specialist in sorting technologies, Machinex has developed its own sorting robot, called the SamurAITM equipped with Machinex AI for continuous performance optimization.  It is a perfect example of what robot technology can achieve. The material recognition software makes this self-aware robot a great asset to a MRF.  It can recognize up to 95% of the material stream, and performs up to 70 picks per minute, nearly double that of the average manual pick rate. Robotic sorters use this latest optical vision technology and artificial intelligence to recognize and sort a wide range of materials, including plastics, cardboard, paper, films, and black plastics. It can sort either positively or negatively in the case of quality control. This function provides higher purity levels and efficiency.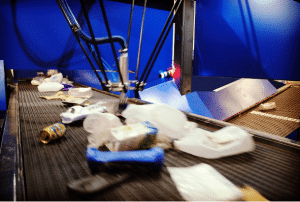 When facing COVID-19 issues, where working in proximity on site is difficult, sorting robots can enable the protection of staff from any working proximity risks and allows the ability to reassign existing staff onto other added-value roles within the facility. It is also a way to limit the inherent risks of staff turnover and the potential availability of staff.
Robots are rapidly being regarded as key equipment within the modern MRF, due to efficiency and reliability, which optimizes MRF operation. In addition, interconnectivity is at the heart of automated systems, thanks to artificial intelligence. As material streams are constantly evolving, connectivity and automatic learning are essential to maintain a high level of purity. The robot is becoming essential equipment to sort materials with the added ability of the AI to collect analytics data.
As previously stated, sorting facilities are facing many issues with regards to; lack of workforce, interconnectivity requirements, changes in input materials, and increasing legislation.
However, artificial intelligence has an astounding capacity to adapt and allow sorting facilities to work on a constant path, supplying data analysis in real-time, automatically adjusting the operation of the facility, and to guarantee high purity levels. More and more facilities, all around the world, are adopting these highly technical systems into their plants, to maintain and increase profitability in challenging times. Robots can be integrated into an existing sorting plant as an upgrade option.
Machinex is at the forefront of technology development by continuously developing its robots and artificial intelligence, thanks to its R&D department. Installed in a brand-new Technology Hub, this department is dedicated to new technologies, such as optical sorter, robots, and AI, to create synergies and bring better solutions for the future of MRF. With a presence all around the world, Machinex moved up a notch with the recent sale of several robots. The future is about technology and automation, with fully automatic sorting plants, running 24/7 with minimum sorting and handling workers to bring more value to MRFs.
This article is published by
Machinex Industries offers complete engineering design, manufacturing and installation of Material Recycling Facilities. As a leader in sorting technologies, Machinex Industries provides turnkey systems: Single-Stream, Mixed Waste Processing, Construction & Demolition, Commercial and Industrial Waste, front-end processing for Waste-to-Energy ...