A lot of the exhibitors and visitors to EMO 2019 are involved in daily business in which huge amounts of metal chips are produced. All of them are faced with the task of how to deal with these volumes of residuals correctly. Hydraulic briquetting systems from the world's leading producer, Ruf Maschinenbau, make this relatively simple and you can experience it first hand on Stand D71 in Hall 7. These systems enable the most varied metals to be pressed; steel, cast iron, aluminium, copper and lots more.
The general benefits are numerous: The chip value increases, space is saved, logistics are simplified and not least, cooling lubricant is recovered. A Ruf briquetting system, for example, enables the reduction of residual moisture in the chips, which generally lies between 10 and 15 per cent, to under three per cent in aluminium and even under two per cent in cast iron.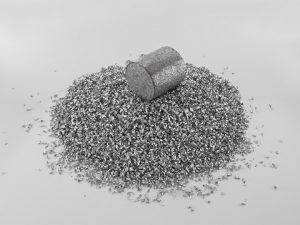 Even in the case of stainless steel chips, companies can reduce the residual values of moisture to between three and five per cent through briquetting as Timo Auber, Managing Director and co-owner of Lauble Präzisionsdrehteile GmbH, emphasises. He recovers the majority of the residual cutting oil when pressing with Ruf systems, and can reuse it. Auber continues: "An enormous benefit of briquetting for us is the saving on space and the simplification of logistics."
How this can be achieved is what the experts from Ruf will explain to the EMO visitors, on-site. Furthermore they will describe the technical principle of their hydraulic systems using the example of the exhibited RUF 15/4000/70. The exhibited press has a force of 150 tons, a specific pressing power of 4 t/cm2 and produces metal briquettes with a diameter of 70 mm. The engine output of the RUF 15 lies at 15 kW and it achieves a throughput rate with steel or cast iron chips of between 310 and over 400 kg/hour. The actual value is influenced by the type and properties of the chips.
Hall 7, Stand D71