Since 1908, American Pulverizer has been making quality reduction equipment for use around the world in a variety of reduction applications such as: coal, chemicals, ferrous and non-ferrous scrap, hazardous waste, limestone, ore, construction and demolition debris, plastic, tires, and wood.
With over 100 years in the design, engineering, and manufacturing of specific reduction equipment, American Pulverizer Company stands out in terms of experience and expertise when it comes to crushing, shredding, and grinding equipment.
With our wholly owned subsidiary, Hustler Conveyor Company, we are able to offer complete crushing, shredding, and conveying systems.
American Pulverizer Company sells throughout the world and we look forward to serving our customers in all locations for many years to come.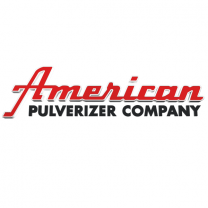 Company name:
American Pulverizer Company
Address:
1319 Macklind Avenue
Phone number:
314-781-6100