The AMIS Maschinen-Vertriebs GmbH with headquarter in Zuzenhausen, Germany, is specialized in offering technical solutions for the size reduction of plastics and other materials. Whether new or used machine: To us it is important that you have the choice. Therefore, our assortment encloses machine models of all current manufacturers. With highly competitive machines, detailed consultation, to individual draughts and a quick spare part and servicing service our employees invest all strength to fulfill the respective requirements every day.
AMIS was founded in 1994 with six employees and was able to expand to 40 employees in a few years. By the purchase of the manufacturer for size reduction technology ZERMA the enterprise developed its position as a supplier of new machines. Today AMIS covers the whole spectrum of used and new machines of all current manufacturers.
Enterprises of the plastic-processing industry, count to the established clientele of the AMIS wooden processing, the chemical ones and the food industry. With our wide net of sales partners, an internationally experienced inside service and a quick system of delivery we are in a position to deliver to distributors within short time, worldwide.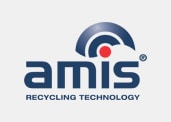 Company name:
AMIS Maschinen-Vertriebs GmbH
Phone number:
+49 0 6226 7890 0