Why You Should Buy A Badger!
The Badger has the ability to process larger pieces of concrete with rebar, in most cases, without having to densify it first.  This eliminates the need of a hydraulic pre- processor in your recycling operation.
The Badger produces less noise pollution and dust than other types of crushers or impactors.
The Badger has the ability to process many types of materials, making it a much more versatile machine.
Slow rotation of the shafts extends the life of the wear parts.
Badger blades are designed with replaceable wear parts.  This ensures less down time and no need for expensive welding.
The onboard computer system makes the Badger a very user friendly shredder.
The Badger Goal Of Superior Quality And Service  
Badger Shredding remains committed to quality manufacturing and providing top notch service and support to its customers. Many equipment manufacturers forget about their customers after the initial sale but its Badgers philosophy to be a partner with its customers by providing the service and support long after the initial sale. This unparalleled customer service is what keeps our customers coming back to us time and time again when they are considering their capital equipment purchases for their recycling operations.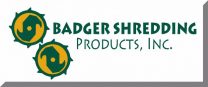 Company name:
Badger Shredding
Address:
3190 Water Division Rd
Phone number:
(920) 863-1626