Recycling Service for Business
Responsible, yet economical business recycling pickup

​
We commend you for wanting to dispose of your business waste the right way.  And, we want to reward that decision with contracts that don't break the bank.  Our local service model allows us to offer recycling pickup prices national providers can't.  From cardboard dumpsters and balers to office-ready recycling containers, we offer personalized options for any business.
​
Let 
our team
 work with you to tailor the right recycling options for your business.
Any of our LIFT front end dumpsters ranging from 4 yards to 8 yards can be used exclusively for recycling.  In addition, we offer an 8 yard cardboard recycling container with capacity to hold two truckloads of broken down cardboard.
​With pickup offered 
up to 7x per week
, LIFT can help your business achieve your environmentally friendly goals through flexible, reliable, and professional delivery and pickup.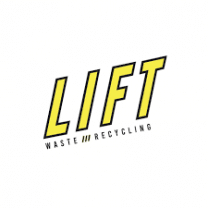 Company name:
Lift Waste & Recycling
Address:
3216 Rehobeth Church Road
Phone number:
800 728 1405