At CORE we don't try to push our customers through a cookie cutter. We appreciate that each operation is different and write our software to be flexible out of the box. You define how it works, then it gets out of your way so you can get back to doing what you do.
EnCORE and eMobile cover all aspects of your operation. Seriously, with these two integrated products we do: billing, routing, inventory, scales, live dispatching, collections, fleet management, paperless DVIR, paperless routes, route performance, online payments, and more. You won't need other software to run your operations, CORE has you covered.
We have two deployment options: you deal with it or we deal with it. EnCORE and eMobile love the cloud and we think you will too. Our redundant server infrastructure is continuously monitored and updated as hardware ages. Our IT professionals take care of the servers and software so your staff can take care of your business. But we're ultra flexible, so if you want to run everything locally that is always an option.
We love seeing our customers grow and we make it easy to do so. Whether you are adding 1 employee or 1000, our software can scale with you. Also, when it comes time to do bulk additions of all your new customers, we have specially trained staff members that will make the process pain-free.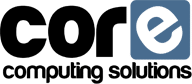 Company name:
CORE Computing Solutions
Phone number:
800 909 3630