The Springdale, Arkansas based company is privately owned and has been in business since 1978 providing CRAM-A-LOT® Solid Waste & Recycling equipment for commercial and industrial applications. The company has two manufacturing locations, one in Springdale, Arkansas and the other in Conway, Arkansas.
J.V. makes its products available to its end users both directly from the company, and through a nationwide network of regional distributors.
J.V. offers quality workmanship, freight coordination, factory trained installers and a nationwide service network after the sale for all of its products, as well as service and repair for many of its competitor's products.
The company's products are delivered through a combination of company owned vehicles and a network of approximately 50 freight providers, many of which have strategic alliances with the company.
Factory trained installers and repair services are delivered through a nationwide service network of over 1,000 insured service providers who are capable of responding within 24 hours of being notified with a need for repair.
Our company's passion for providing customer service based on honesty, integrity and putting the customer first has made CRAM-A-LOT® one of the most respected companies in the industry and #1 in customer satisfaction.
Celebrating our 30th Anniversary J.V. continues to offer solutions for your trash needs with our full line of recycling and solid waste equipment designed with today's latest technology and safety standards.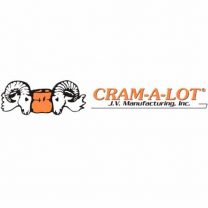 Company name:
CRAM-A-LOT / J.V. Manufacturing, Inc.
Phone number:
1-800-678-7320