Eagle Crusher Inc. is a worldwide leader in the manufacture of a complete line of heavy-duty impact crushers, portable crushing and screening plants, jaw crushers, and conveyors for the concrete, asphalt, aggregate, and recycle markets. The company provides innovative, quality products and exceptional aftermarket service and support.
Only the Eagle Crusher UltraMax® series of plants deliver the highest production rates, highest quality, uniform spec product, and minimum down time for maximum profitability. No matter what the feed material or how tough the job, you can rely on our heavy-duty UltraMax® plants to provide extreme durability and portability. Your profits depend on the highest performing plants in the industry, and only Eagle Crusher has them.
Eagle Crusher has earned its world-class reputation for innovative research, excellence in manufacturing, and quality products due to its philosophy of putting customers needs first.
Our #1 goal is making the customer more productive and profitable by providing the best impactor-based technology and after-market support available. That's why Eagle Crusher has become the #1 manufacturer of portable impact crushers worldwide.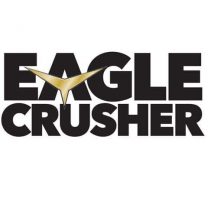 Company name:
Eagle Crusher Inc.
Address:
525 South Market
Phone number:
+1 419 468 2288