Machines & Systems for the Waste to Energy & Recycling Industry
It doesn't matter what you intend recycle or turn into an alternative fuel. Whether you have to process post industrial waste, C&D waste, MSW (Municipal Solid Waste), post consumer Waste, Paper and Cardboard, paper sludge, wood, carpet, packaging film, agriculture film, plastic or Biomass. With the eFACTOR3 line of equipment you get the best quality equipment. eFACTOR3 offers a large variety of shredding, cleaning, granulating and extrusion equipment along with conveying and separation equipment for the Recycling, Waste and Waste to Energy Industry in North America.
As a turn-key supplier, eFACTOR3 can also supply the systems integration and installation. Whether you need to provide RDF for the cement industry, cubed energy for industrial boiler systems or clean plastic pellets for the production of goods eFACTOR3 can provide your tailored shredding, granulating or complete recycling solution.
Regardless of your application you can count on the following benefits:
The right technology for your application
High productivity
Easy to operate
Unsurpassed accessibility for ease of maintenance
Low operating cost
Low energy consumption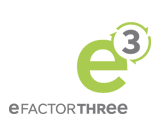 Company name:
eFACTOR3 Recycling Industry
Address:
601 Eagleton Downs
Phone number:
1.704.944.3232