The Mission of the Emerald Coast Utilities Authority is to promote the quality of life of the Emerald Coast by providing water, wastewater, and sanitation services in an effective and efficient manner.
The Emerald Coast Utilities Authority (ECUA) was originally created under the name Escambia County Utilities Authority in 1981 by an Act of the Florida Legislature to own, manage, finance, promote, improve and expand the water and wastewater systems of Escambia County and the City of Pensacola. The ECUA began offering sanitation services in Escambia County in 1992.
ECUA is a local government body, existing under the laws of the State of Florida. The powers of the ECUA are exercised by a five-member Board. Each member of the Board is elected in one of the five County electoral districts. Terms are for four years and are staggered. ECUA's name was officially changed to the Emerald Coast Utilities Authority on June 29, 2004.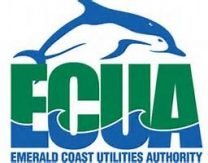 Company name:
Emerald Coast Utilities Authority (ECUA)
Address:
9255 Sturdevant Street
Phone number:
850-476-0480