Design and supply complete Metal Shredding systems for Auto Shredding and Non-Ferrous Metal recovery, All sizes of Shredders, including all downstream ferrous & Non-ferrous processes, Air Pollution Control, ICW Reclaim.
Complete Refurbishing of used equipment, Removal , Installation, and Maintenance Services worldwide.
Hammermills International is a consortium of companies that combined forces to focus on turn-key solutions for the automobile and metal scrap shredding industry.
Our team of Engineers, Designers, Project Managers, Fabricators, skilled Shredder Servicemen and Erection crews have many years of valuable experience to offer a full range of equipment and services; from a single part to a full turnkey shredder installation.
Over 70 years of combined experience has allowed Hammermills International to offer unmatched competency in a range of equipment and services worldwide.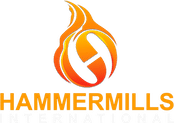 Company name:
Hammermills International, LLC
Address:
14963 South 49th West Avenue