The Henrich Group combines three dynamic companies under one roof. Rooted in the south Westphalia region and in the third generation of family ownership, we have enjoyed success on national and international markets for over 50 years. Our customer orientation and reliability are what make us outstanding and we respond to our customers' needs and requirements with flexibility and with a wealth of ideas.
Wide-ranging technical know-how and our expertise in steel, state-of-the-art, certified manufacturing methods, the systematic utilization of synergies within the group, as well as production exclusively at our own factory location in Germany have made us what we are today. Dynamism and passion are our fundamental principles in turning our creative ideas into efficient products, for which we also place great emphasis on aesthetics and design.
And last but by no means least, the Henrich Group also stands for resource-conserving production and sustainable solutions for a clean environment.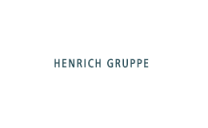 Company name:
Henrich Gruppe
Address:
Lützelner Straße 46
Phone number:
+49 0 2736 5096 106