Komar Industries, Inc.
Komar Industries is a family owned, American based manufacturing company that has an international scope with multi-million dollar systems all over the world. Komar manufactures industrial shredders, compactors, briquetters, autoclaves, air-locks, blenders, feeders, dumpers, lifts, and completely engineered processing systems to handle various materials including: hazmat, nuclear, biomedical, chemical, as well as heavy waste to midsize/large scale municipal waste. Komar takes pride in our over 140+ U.S. and foreign patents, our innovative solutions, and our long standing leadership in the equipment industry since 1977.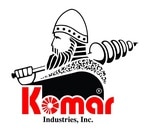 Company name:
Komar Industries, Inc.
Address:
4425 Marketing Place
Phone number:
+614 836 2366