Ludden & Mennekes Entsorgungs-Systeme GmbH
is a company in the field of machine building specialized in environmental technology.
In order to enable the transport of residual materials and recyclable raw materials as efficient as possible, we have been developing, designing and producing powerful future-oriented systems for the waste management industry since 1991.
Our product range comprises mobile and static compactors, transfer stations, and lifting-tipping devices, as well as the belonging components.
In addition to the large number of serial products, we also provide individual solutions to meet your customer-specific requirements.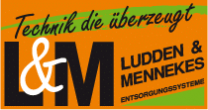 Company name:
Ludden & Mennekes Entsorgungs-Systeme GmbH
Address:
Essener Straße 13
Phone number:
+49 5932 7215 0