MacPresse Europa  is a world leader of systems for the treatment of waste and recyclable materials.
Founded by the Scotuzzi family in 1875, today Macpresse products can be found in over 40 countries across five continents.
Vision & Mission
To continue the family tradition by offering products recognized worldwide for high quality and constant innovation.
Establish ourselves with determination and passion as the best waste treatment technology manufacturers.
Macpresse's strategy and musts
Make the toughest and most efficient balers in the world.
Offer the quickest possible service and spares to customers so that downtime can be brought down to almost zero.
 Make innovation, research and development the essence of our future.
Make our and our partners' technological know-how a heritage.
We strive every day to ensure these principles are the basis of our competitive advantage.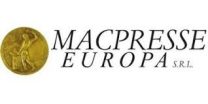 Company name:
MacPresse Europa
Address:
Localita' S. Giuseppe 7
Phone number:
+39-02 905 24 20