Maguin, renowned for its expertise in beet sugar technology, has in more recent years diversified its activities.
Nowadays the Company offers a full range of processes and equipment within three major fields:
Beet Sugar Industry, Alcohol and Bio-ethanol production and Environment, the latter one with the CerCat® Filter (ceramic catalytic) for hot flue gas treatment and pre-fermentation drum for waste.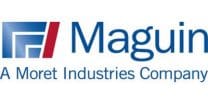 Company name:
Maguin S.A.S.
Address:
Rue Pierre Sémard 2
Phone number:
+33 03 23 56 63 00