MATECH BV is active in the world wide recycling- and metal market.
We offer a broad product range, including Handheld, portable Metal Analyzers, Pre-compression Scrap Shears, Alligator Shears, Cable Recycling Machines, Separation systems and Crane attachements.
MATECH always holds a large stock of new and used machinery.
The head office of MATECH is based in Mierlo in the south of the Netherlands.
Our home territory, Benelux, is being worked directly while all other territories are being served via a network of exclusive distributors.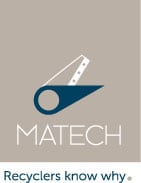 Address:
Ambachtweg 39-41
Phone number:
+31 492 477488