Maximus Crushing & Screening Ltd is a leading manufacturer of high performance, high quality Crushing & Screening Equipment for a wide range of applications. Maximus Crushing & Screening has a portfolio that encompasses a variety of products essential for maximum productivity. We also supply an extensive range of high quality Crushing & Screening spare parts with approximately £1m worth in stock – our aim is to reduce downtimes to an absolute minimum, maximizing your profitability
Maximus Crushing & Screening was founded in 2004 and is headquartered in Coalisland, Northern Ireland. Since the company's inception we have grown progressively. We pride ourselves in our work and have a hands on owner/management approach in all our activities, linking closely to our most valuable asset, our people, who bring a vast amount of experience and skill, many of whom have been with Maximus Crushing & Screening since our establishment.
Our core activity is entered on the design, manufacturing and maintenance of high quality innovative and reliable equipment. We are proud of the dependable and honest reputation we have built and will continue to grow a sustainable business that will continue to benefit the national and international dealer network.
The Maximus product range is built using high quality materials and components, making them robust, reliable and easy to maintain, giving many years of service. We are passionate about building strong, long lasting partnerships. We go above and beyond in order to assist all our customers in making cost effective and correct use of our equipment. Our customer support ensures you will always have the right part when you need it and the hands on experience from our team of engineers.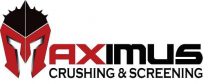 Company name:
Maximus Crushing & Screening Ltd
Address:
2A Washingbay Road
City:
Coalisland, County Tyrone
Phone number:
+ 44 (0) 28 8774 8873