Paradigm Software LLC
Paradigm Software, L.L.C. continues to be the leader in the weighing and routing industry by providing state of the art software solutions for over 25 years. Our off the shelf application is the Standard in Weighing & Routing Software. Pair our superior software with an industry leading support staff and you have an unbeatable combination. Paradigm's customers recognize our commitment, dedication and attention to detail and realize a return on investment (ROI) very quickly after implementation.
Our Mission
By developing and incorporating cutting edge technology into our products, our mission is to remain the leading provider of software solutions for the weighing and routing industry. We are committed to our customers and ensuring the products we offer are second to none. From initial contact to the support after installation, we provide our customers with our full attention and dedication in order to maintain a long lasting business relationship. We understand that without the input and support of our customer base, our software will not continue to be the leading choice for the weighing and routing industries.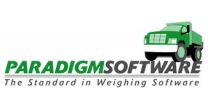 Company name:
Paradigm Software LLC
Address:
113 Old Padonia Road
Phone number:
+410 329 1300