PCE Deutschland GmbH
PCE Instruments is a manufacturer and supplier of test devices, control systems, laboratory equipment and scales and balances with its headquarters in Germany and several offices around the world, e. g. in the UK and US.
PCE crane scales
PCE crane scales are the toughest and most durable crane scales on the market. Our crane scales are used in a situation where weighing by hanging the load is preferred over a static or floor scale.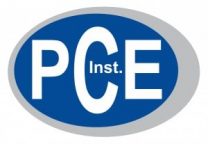 Company name:
PCE Deutschland GmbH
Phone number:
+492903976998903
Fax number:
+4929039769925