PTR Manufacturers the highest quality recycling balers in the industry.  All of our products are manufactured in the USA to the highest quality standards for years of dependability.
PTR Baler & Compactor Company is recognized as the source of high quality products and is backed by an Industry Leading Warranty. Our balers and compactors are manufactured for Safety, Long Life and Lowest Total Cost of Ownership. We are dedicated to the mission of providing our customers the best value in balers, compactors, and nationwide service in our industry.
When you order a PTR Baler or Compactor for any recycling or waste disposal application, you immediately benefit from 4 generations of manufacturing experience. Advanced design features make operation easy without sacrificing safety. Our equipment can handle your toughest requirements with routine efficiency at a low maintenance cost for many years.
Whether you're implementing a corporate sustainability plan to existing locations or planning a roll-out to new site locations, PTR can help you benefit from recycling and waste compaction savings.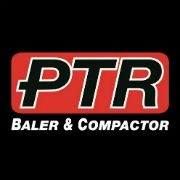 Company name:
PTR Baler and Compactor Company
Address:
2207 E. Ontario Street
Phone number:
(800) 523-3654