Striker is a manufacturing company providing a range of crushing and screening equipment, fixed plants for quarry and mining services and a new range of recycling equipment. Our plant and machinery is available for sale and rent. The company is privately owned and was founded in 1998 in Perth, Western Australia. We have always maintained a 'can do' attitude and ensured that products we design and manufacture are 'built to last'.
Striker is a rapidly expanding and innovative company. We are reaching out to remote areas in the global market with a complete range of fixed, portable, mobile and tracked plants. Striker has offices located across Australia, Malaysia, the USA, The Middle East and China. We provide equipment to various locations worldwide. Our products have been tested in extreme climates including the harsh mining environments of Australia and cold remote locations in Mongolia.
Striker provides quality, reliable and tough crushing, screening and materials handling equipment to the mining, recycling and quarrying, civil contractors' and earthmoving industries. We are proud of the products we manufacture and of the working relationships we build with our clients.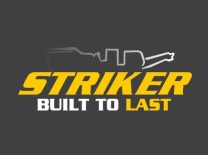 Company name:
Striker Australia LTD
Address:
9 Egmont Road Henderson
Phone number:
+61 (08) 9437 3533