Zero Waste Energy, LLC was founded in 2009 and incorporated in 2010 in San Jose, California, by an experienced group of innovative solid waste industry leaders.  They recognized the value in the best use of waste feedstock and the systems needed to sort out high value commodities and to generate renewable energy.  ZWE's principal goal has been to design, construct, and operate solid waste handling and advanced composting facilities that optimize waste diversion and the generation of renewable energy in an efficient and environmentally sound manner.
Zero Waste Energy has developed a very deep base of industry and technology experts who work on ZWE projects based upon the specific needs of its customers, making us the ideal project partner with experience, resources and technologies to execute.  Our exclusive and/or project-based relationships include "Best-in-Class" Facility Design and Engineering, Waste Sorting and Separation Systems, Anaerobic Digestions and In-Vessel Composting, Renewable CNG, Plastics to Renewable Oil, Compost Marketing and Sales, and Residual Waste Gasification.  The relationships with these technology teams have been developed over many years and projects.
Many in the waste industry are seeking "zero waste" or renewable energy from waste.  Zero Waste Energy brings real, executable solutions to developers and operators throughout the world.  At Zero Waste Energy, we've based our name and our reputation on insightful experience and strong performance, which can be seen in our operating references for all sized operations. We believe it's critical to know where you've been in order to better understand what's possible going forward.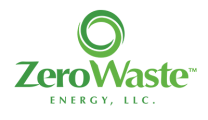 Company name:
Zero Waste Energy
Address:
3470 Mt. Diablo Blvd. Suite
Phone number:
925 297 0600