The Central African country with a population of 30 million has an enormous waste problem in their homeland, as the representatives of the Ghana Jospong Group described to Komptech in 2018 at one of the big trade fairs in the recycling industry, the IFAT in Munich. This conversation not only led to the largest deal in the history of the company so far and the expansion beyond the core industrialized countries to developing countries, but also brought challenges such as the different waste composition, training needs, and local conditions.
Methane reduction & fertilization
To ensure an efficient and especially sustained operation, a Komptech delegation was on-site in Ghana: "Our people looked at the waste there, which has a very different composition from in Europe, and based on that we developed a special concept for mobile processing machines that could be used flexibly in Ghana", says Komptech CEO Heinz Leitner.
"The specially assembled Komptech systems select the biogenic component out of the waste, compost it, and thus prevent it from fermenting and producing climate-damaging methane", explains the responsible Sales Manager Markus Maierhofer. "Additionally, the resulting compost is being sold to the Ghanaian government, which uses the compost as fertilizer for parks and roadsides.
Workplaces & training
The rest of the waste also goes through Komptech machines, which sort out the valuable materials so that only a small remainder ends up being landfilled. "Some of the recyclables sorting is by hand, although that could be done automatically. But it was an explicit wish of the customer, in order to create additional jobs," reveals Leitner. However, in terms of workplaces, there is a need for training. To fulfil this need, a training program was developed by Komptech and Zoomlion Ghana Limited in cooperation with the Montanuniversität Leoben, the Austrian Agency ICEP, and the Austrian Development Agency (ADA). The program is currently in the planning stage.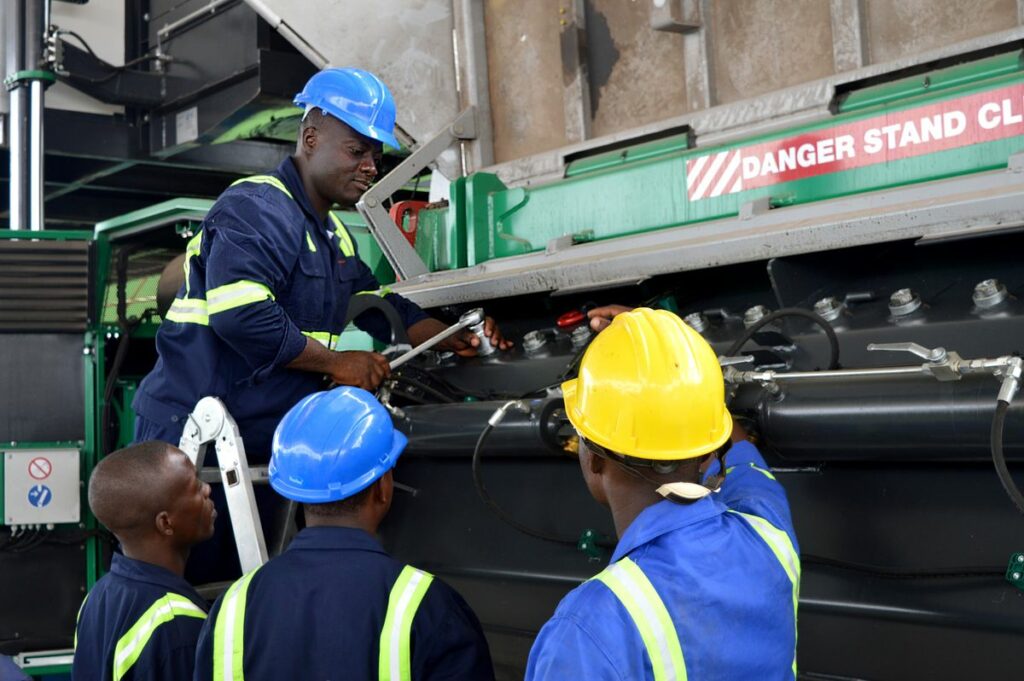 Information & Technology transfer
Waste treatment with machines adapted to local conditions – that was the recipe for success in Ghana. A concept that can be applied to other countries in similar situations, since many developing countries are just starting on the path to organized waste disposal. Information and technology transfer from countries with experience in waste management are helpful in reaching their goals.
"In the short term it's always cheaper to simply throw waste out into the landscape than to process it and recover the recyclables. So there needs to be the political will in the form of legislation, and a certain amount of financial strength to be able to afford it," says Leitner with clear-eyed realism.
In Ghana, the political will certainly seems to be there. Since 2018, a total of four orders have been placed, consisting of two stationary processing plants in Kumasi and 14 mobile plants, that are located throughout Ghana. Overall, this results in around 2800 new workplaces. Even if this result is very positive, it can only be seen as a first step in the right direction. For this reason, further projects are already being planned to ensure a nationwide network of waste treatment facilities in Ghana and thus to contribute to a cleaner and greener world.