Lately the mechanical engineering company have supplied a press mounted on wheels, which means it can be connected to the various machining centres with a minimum of effort. It compresses aluminum as well as nickel-iron chips to compact briquettes, which are then sold as secondary raw material.
Standard briquetting systems from RUF can only be moved by the user with a forklift or a pallet truck, because they are positioned on permanent feet. However, depending on customer requirements, RUF can also provide high-quality heavy-duty wheels instead of the permanent feet, meaning the system can be pushed into positions by hand. This simplifies and speeds up a change of location for operational purposes. This solution has recently been realized once again for a customer.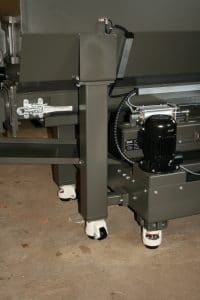 The RUF 4/2400/60×60 press can be connected to a maximum of five different machining centres without any great effort when required, meaning the transportation of chips through the work halls is avoided. The chip outlet of the machining centres is directly connected to the 600 x 1000 mm hopper of the press; and the system can run without manpower around the clock. It starts up automatically, as soon as the hopper has reached a predetermined filling level, and also comes to a stop automatically when the hopper is almost empty. The only manual work involved is replacing the filled briquette collecting container when it is full, with a new empty container. Additionally, thanks to the volume reduction achieved (for steel this is a ratio of 1:5, and for aluminium a ratio of about 1:10), changing containers is more seldom than with loose, voluminous chips.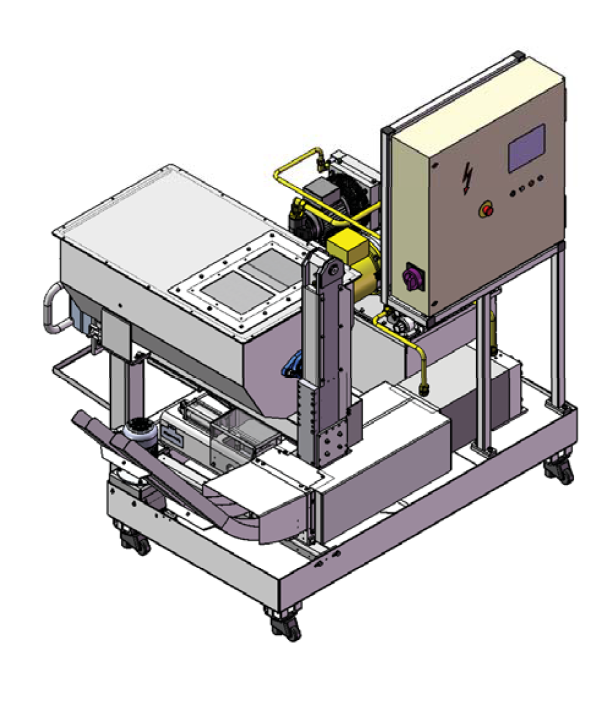 The mobile RUF 4/2400/60×60 is equipped with a 4 kW electric motor, which hydraulically creates a maximum specific pressing power of 2300 kg/cm2. In the current customer project it processes short chips of aluminium or nickel-iron alloys which are coated with clinging emulsions. When processing the aluminium alloys, it presses an average of 94 kg/h.