Machine learning allows computers to learn without being explicitly programmed to do so. In the case of waste sorting, the learning algorithms rely on data models to be analysed, such as shape or thickness, to make classification decisions. As the learning process continues, the performance will improve.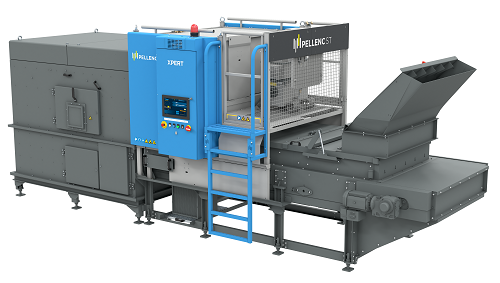 The new Xpert includes a detector, and a 1000-Watt X-ray generator, offering great flexibility. Its new software is able to target multiple materials and densities in a single sorting step. It is Top Speed Ready, meaning the conveyor can run from 2m/s to 4.5 m/s, depending on the application, and allows high capacity sorting without any compromise on performance. The new Xpert, therefore, provides increased performance and guarantees operators higher recovery rates.
Recognition by density, shape or thickness, the combined technologies address a wide range of applications.
In the treatment of electronic waste, the Xpert can remove plastics containing flame retardants or other charges allowing more stability and higher recovery rates than a floatation process. It can also be used to recover high-added-value materials such as PCBs.
In the metal recycling industry, the Xpert is utilized to process Zorba and for sorting different aluminium alloys in order to produce a Twitch product which is ready for a furnace.
The Xpert is very versatile and addresses the challenges of many other applications, such as leaded glass sorting.
This machine has been designed with safety in mind and to make the work of operators easier. Its ergonomics have been considerably improved simplifying the maintenance operations and reducing costs to a minimum, even when the machine is operating in harsh environments. Like all Pellenc ST machines, the Xpert is equipped with the CNS (Central Nervous System) software platform. Operators will thus be able to upgrade their equipment by integrating future technologies and sensors developed by Pellenc ST.
Finally, Pellenc ST offers its customers local and personalized support with a 24/7 turnkey service solution which includes wear parts and the Smart&Share application. Smart&Share is a valuable performance support tool that continuously analyses the operation of the sorter and helps optimise their operation with intelligent alerts and customised reports for increased availability and better sorting quality.