FCC's La Campiña facility in Madrid, which serves 31 municipalities and nearly 700,000 residents in the eastern commonwealth, is designed to treat 240,000 tons of mixed municipal waste annually. That includes processing 45 tons of selective organic waste, 20 tons of packaging waste, close to seven tons of vegetable waste, and eight tons of bulky waste.
Challenges
Keeping up with technology advancements to improve recovery quality
Alfredo Vigre, project manager, Waste Treatment Department, is responsible for the design and construction of FCC's La Campiña facility, as well as others in Madrid. According to Vigre, it's important to FCC to experiment with new technologies; the company wants to make its facilities as modern and efficient as possible. The construction of a new facility presented a prime opportunity to test how the latest recycling technology might benefit the operation. FCC's goal was to be as innovative and efficient as possible by using the latest technology on the market.
The opportunity to increase pick rates and improve quality control was another draw. In Spain, Ecoembes, a public company responsible for the recovery of packaging materials, sets quality standards that recycling facilities have to meet, so ensuring a high-purity, low-contamination product is of utmost importance to plants including FCC.
Solution
AI-powered automation from industry leader
When evaluating potential suppliers for their facilities, FCC looks for experienced companies and market leaders, explained Vigre. FCC tends to build long-lasting relationships with suppliers and maintain close contact with them to facilitate collaboration. Robots were one of the new technologies FCC chose to explore.
"AMP is the leading brand in robotics, and that was an important factor for us in choosing a solution to improve our sorting productivity and efficiency," Vigre said.
At FCC's plant, any material not sorted by the optical unit is sent to the manual sorting station, where recoverable material such as paperboard and drink containers are separated. After manual sorting, the AMP Cortex™ intelligent robotics system FCC installed separates PET, HDPE, and UBCs. The byproducts recovered here fall through hoppers into storage units located under the sorting booth platform and are subsequently fed by means of a conveyor to the byproducts baling press.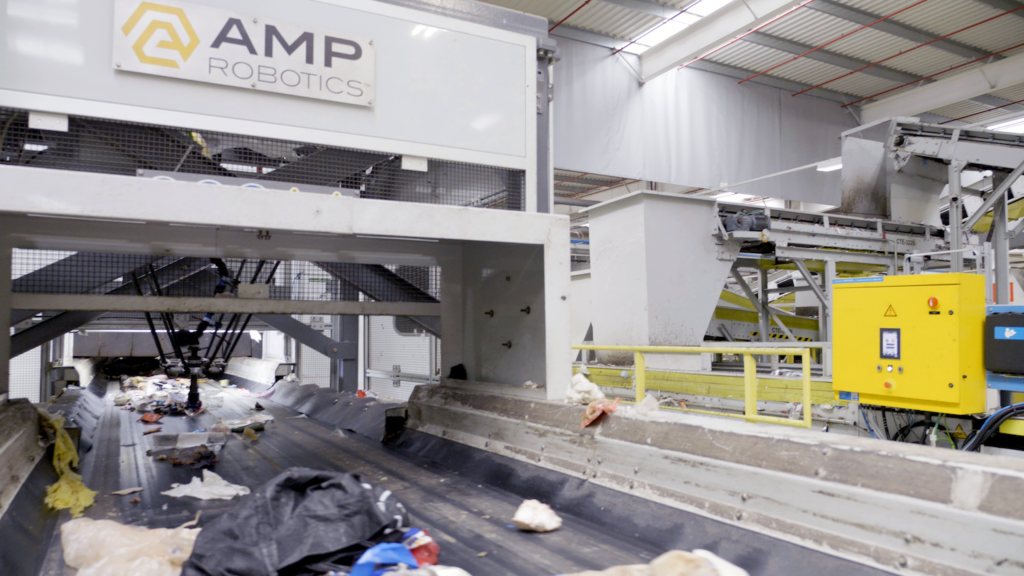 Results
Efficiency, flexibility, quality, and work experience improve with automation
With AMP's robot up and running, Vigre is pleased with the results it's bringing to FCC's sorting operations. Robots don't tire, and they work everyday, so the facility's consistency and efficiency have improved. They also offer the flexibility to adapt to changes in the material stream. AMP trained staff in the facility to control the target materials, so it can be adjusted based on the composition of inbound material, commodity prices, and more.
"We tested the robot prior to implementation and were pleased with its ability to recognize and recover materials that optical sorters cannot. It's been fast and effective, and a great tool for quality control."
The improvement in quality is an important metric for FCC because it's quality that sets recyclers apart. The purest commodities fetch the highest prices; low levels of contamination provide recyclers with more opportunities to sell their material.
"It's clear that the more automated facilities are, the better the yields and quality of the final product," Vigre added.
FCC does not view a robot as a replacement for a person; rather, a robot is replacing a "job" or a task. In this way, the technology has helped create higher-value positions within the plant. Sorting jobs are difficult and often dangerous, and FCC prefers the use of a robot where possible to a manual sorter.
Given the importance of reliability to FCC, Vigre reports there have been no maintenance issues since installing the robot. However, if there are any minor hurdles to work through, he and his team receive direct telephone assistance from AMP.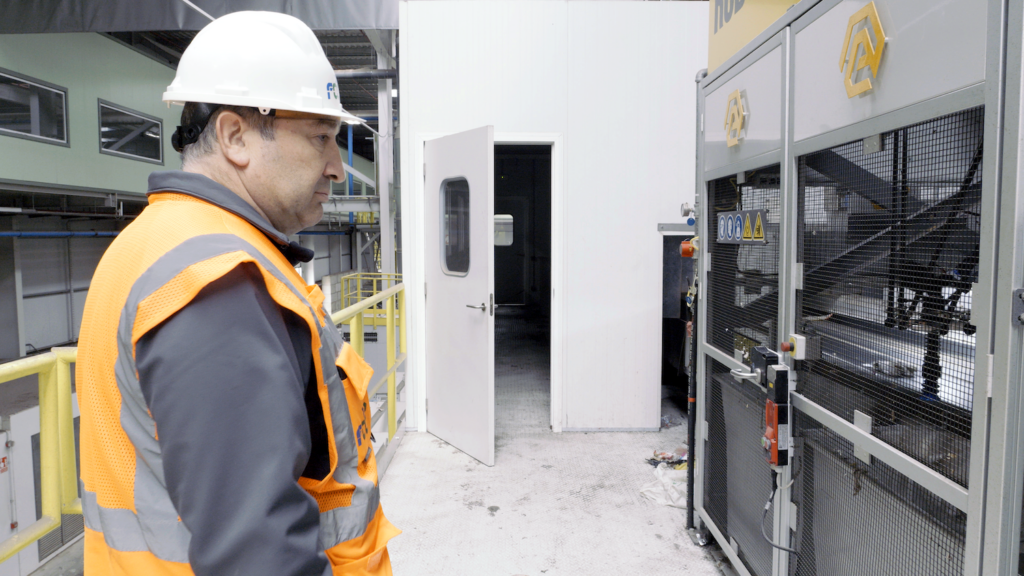 Looking ahead
Opportunities for AI and automation abound
Vigre concluded that FCC's experience with robots has been positive largely thanks to the ease of working with AMP; the company has been collaborative and solutions-oriented throughout the evaluation and installation process.
Deploying the robot in a quality control setting has been successful, helping to demonstrate to the FCC team that there are many other suitable locations for robots within the facility.
"If we compare this facility to older plants with manual work, the difference is clear," Vigre states.
Vigre encourages other facilities to familiarize themselves with the potential of AI in recycling. While there's growing interest, he thinks its power and efficacy are not yet well understood. He's a believer, and says FCC will certainly consider robots for future projects so the company can stay on the leading edge.