Founded in 1892, this family business serves its customers in Eastern France with a team of more than 550 employees. It operates its own fleet of vehicles and treats nearly one million tonnes of waste annually with its 21 specialized sites.
In its long history, Schroll has earned a reputation for working closely with its customers and suppliers to provide a professional and responsive service. Based on more than one hundred years of experience and know-how, it develops customized solutions to help its customers manage their waste and recycling efficiently and sustainably, from the beginning of the recycling chain to the end – from collection to sorting and treatment of paper, cardboard, plastics, non-hazardous waste, wood, batteries and lightbulbs, as well as collection and recovery of biowaste.
The philosophy driving the business is to meet the specific requirements of its customers with solutions that prioritize recycling as the best method for treating waste in order to save natural resources and protect the environment.

A long-standing collaboration based on professional advice and quality equipment
Well designed, well equipped facilities are key to achieving this objective: "at the time of the construction of our first sorting center, in 1999, we were looking for a company capable of delivering a quality product in a very short time. Our research led us to STADLER," explains Pascal Schroll, co-owner of the Schroll Group: "We immediately appreciated the advice and support of Willi Stadler and Clément Stehlin, their Sales Manager. Tests were carried out in the STADLER test center to find innovative solutions to meet our needs. We appreciated the way they listened to us, reacted to our wishes, and always took into account the specifications of our material and requirements."
This was the beginning of a long-standing collaboration, and STADLER has since built 5 more sorting plants and renovated another facility for Schroll: "The positive experience of these first contacts encouraged us to work again with this company for the development of our other plants," adds Vincent Schroll, co-owner of the Schroll Group. "We particularly appreciate the reliability of the machines, the respect of deadlines and the work of the STADLER teams."
The waste management and recycling industry is continuously evolving, and STADLER's ability to innovate, developing new products that meet the changing needs has cemented the relationship between the two companies, as Vincent Schroll explains: "the technical evolution of the equipment meets the growing requirements of our sorting centers."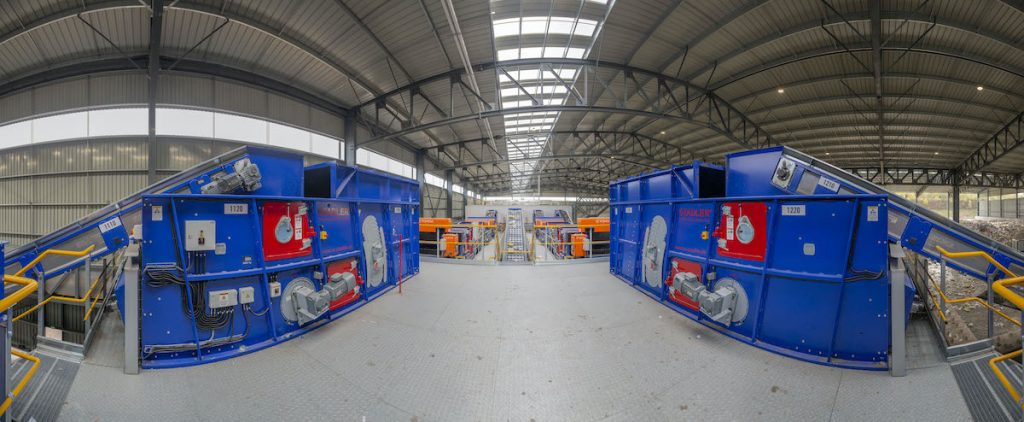 A future-proofed plant designed for future expansion, diversification and automation
The latest project STADLER has completed for Schroll is the new recycling centre at La Maix in the Vosges near the town of Épinal. This centre has been dimensioned to be able to process 80,000 tonnes of waste per year.
On the customer's request, the facility was designed to allow for future expansion and the sorting of further fractions, as well as the possibility of installing robots. STADLER addressed this demand by including two independent sorting lines – one for the treatment of multi-material and one for hollow material: this set-up "gives more flexibility by allowing, for example, to work on one line in 2 shifts and in 1 shift on the other line" explains Clément Stehlin, STADLER Sales Manager.
The multi-material plant takes in the whole 15-tonne/hour input, which is fed into a STADLER PPK ballistic separator and two STADLER STT2000-8-1 ballistic separators for mechanical sorting. This is followed by optical separation with four Near-Infrared (NIR) devices, and the process is completed with manual sorting. The final output fractions of this line are PCNC (packaging and small cardboard fractions), cardboard, film and JRM (newspapers, journals, magazines), as well as hollow materials which are then fed into the plant's second sorting line.
The hollow materials line, with a throughput of 4 tonnes per hour, sorts the fractions mechanically and optically, with a final manual sorting. It uses a STADLER STT2000-8-1 ballistic separators, a magnet, a separator for non-ferrous metals and five NIR devices, to produce an output of clear and coloured PET, PEHD, Tetrapak, aluminium, film, mixed paper and residual fractions.
"The STADLER machines in this line are perfect for this purpose and exactly dimensioned for potentially higher throughputs in the future," comments Clément Stehlin.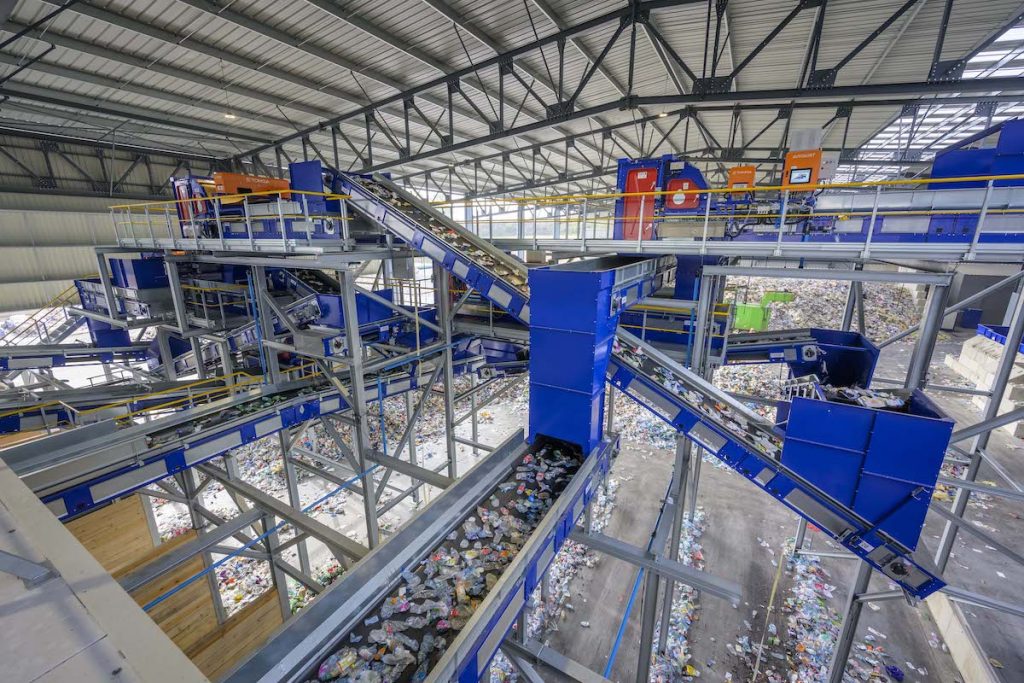 A plant designed for the comfort and safety of its staff and visitors
The well-being of the staff was an important consideration for Schroll, and STADLER's design provides pleasant social premises and good ergonomics at the workstations. The facility also features well planned, quality catwalks to conduct maintenance operations safely and with ease.
Schroll is planning to receive a large number of visitors, including school groups, at this plant, so STADLER designed and installed a viewing platform to offer a good view of the facilities in full safety.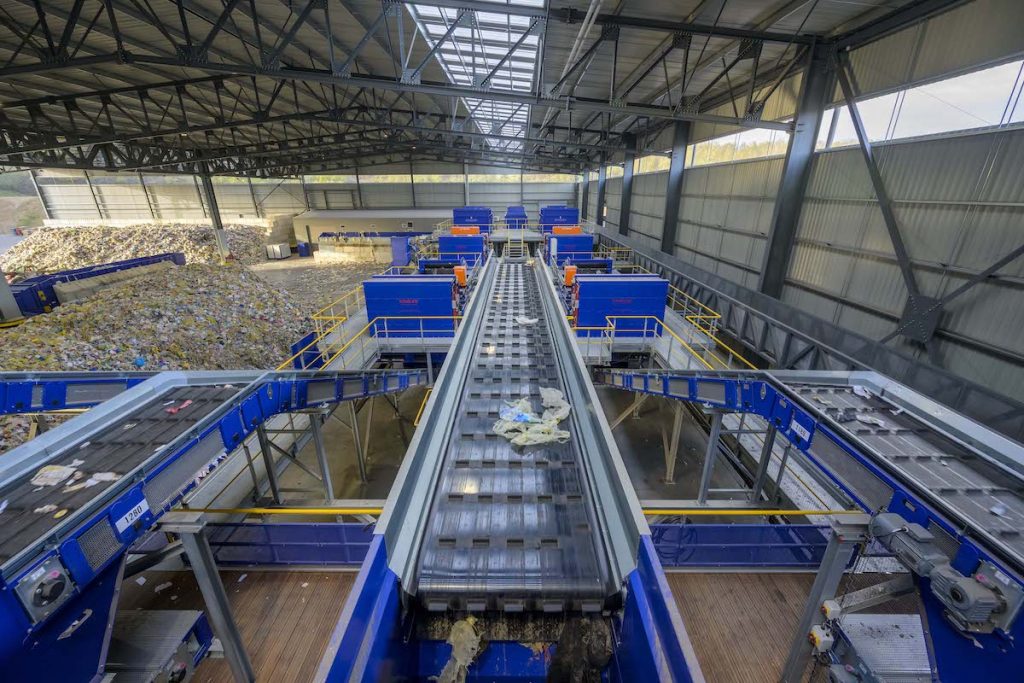 Full satisfaction on all counts
This complex project was delivered on schedule in spite of a very tight timeline of just 14 weeks, including a week for the start-up of each of the two lines, and the facility started operating in October 2019. Throughout the entire process, from commissioning through to installation and start-up, STADLER has delivered to the full satisfaction of the customer: "We appreciate Stadler's ability to meet commitments, advise us and respond to changes during equipment setup," concludes Pascal Schroll.