The Customer:
The company operates a wood recycling facility at their Belfast site, which is conveniently located in the Belfast harbor estate, enabling them fast and convenient access to timber arriving into the dock.
Crawfords process 250T of Grade A and 200T of Grade B waste wood per week at their Belfast site, with the majority coming from the transport and manufacturing industries.
Their processed Grade A wood is sent to their sawmill in County Fermanagh, where it is heat treated and blended with their other sawmill residue. The Grade B wood is processed into Biomass and sent to a power station in County Derry for fuel.
Their Challenge:
At their Belfast recycling facility, Crawfords operate a static HAAS recycling line. The system consists of a slow-speed shredder, hammermill, oscillating screens, and various magnets and eddy current separators, removing ferrous and non-ferrous metals. Through this process, their waste wood is shredded down to <50mm, ready for secondary shredding in the fine hammermill, where it is shredded down to <8-10mm.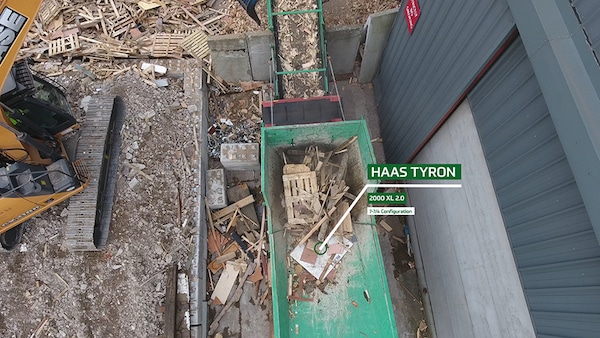 Separately, Crawfords operated a mobile slow-speed pre-shredder, which broke down the bulk of the raw waste wood before being processed through their static HAAS line. This shredder was aging and in need of replacement.
The new shredder needed to…
• Produce a consistent particle size for further processing.
• Match or exceed the throughput of their existing pre-shredder.
• Be compact and maneuverable enough to operate around their own, and customer sites.
• Be economical to run.
RTD Crawford investigated the market, and contacted CRJ Services for a solution.
Our Solution:
CRJ Services proposed that the HAAS TYRON 2000XL 2.0 would meet and exceed their operational and economic requirements.
The HAAS TYRON 2000XL 2.0 is a powerful, twin shaft, slow-speed shredder boasting high-performance capabilities with throughputs of up to 65tph on waste wood. The two shafts can be independently controlled, allowing for greater control over the output product. The ability to independently control, and reverse the shafts also combats the wrapping of long fibrous material around the shafts, reducing downtime spent clearing blockages and wrapping.
The HAAS TYRON series of shredder comes on crawler tracks, with an easy to use remote control, which allows users to effortlessly maneuver the shredder around the site.
Having investigated the market, RTD Crawford decided to purchase a new HAAS TYRON 2000XL 2.0 pre-shredder. They were no doubt encouraged by the success of their HAAS static recycling system, and the excellent service and support they had received from the German manufacturer.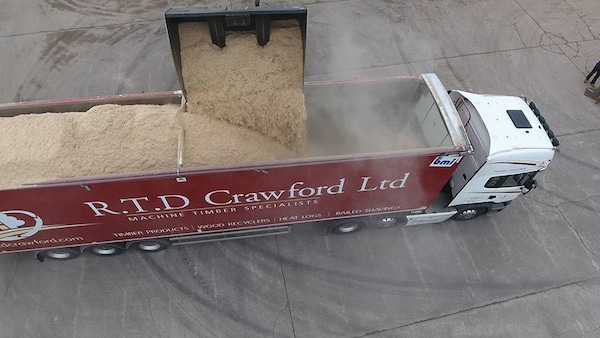 When speaking to Mark Crawford, Director at RTD Crawford, he had the following comments on the HAAS TYRON…
"After investigating the market, we settled on the HAAS Tyron mainly for its compact size and ease of maneuverability over its competitors. We also have found the Tyron very economical to run."