Zorba processing with real net output ratio
"Thommen is synonymous with quality. I would like us to be a beacon in the world of recycling," emphasises the head of the company. In 2015, after the Thommen Group acquired the second super shredder in Switzerland, Tobias Thommen concentrated on the recovery of non-ferrous metals in the shredder heavy fraction and invested in a further processing facility for manufacturing high-grade aluminium, copper, brass, and zinc products. "I aspire to manufacture products such that our customers, i.e. steelworks, copper smelting plants, aluminium smelters or brass foundries, can smelt them straight away. And this requires a purity of close to one hundred percent. The ZAB (Zorba Processing Facility) with STEINERT sorting machines, which went into operation in 2021, has had a huge role to play in this respect." Zorba is a mix of different proportions of non-ferrous metals. Non-ferrous metal separators, also known as eddy current separators, recover this mix of metals before sensor sorting machines split the metals into pure fractions suitable for smelting works. To improve the efficiency of the sensor sorting machines, the non-ferrous metal concentrates are screened into different grain sizes, namely 0-15 mm, 15-30 mm, 30-60 mm, 60-120 mm and larger than 120 mm. These are then separated into both cast aluminium and wrought aluminium alloys by X-ray transmission, the STEINERT KSS | XT CLI. The system uses fluorescence technology (STEINERT KSS | XF CLI) to produce the pure-grade heavy-metal products. Sensors for colour (C), dimension (L) and induction (I) have been added to each of the two sorting machines at Thommen. This enables even more precise selection criteria to be set for complex and varied sorting jobs and also ensures that the company can flexibly rise up to future sorting challenges.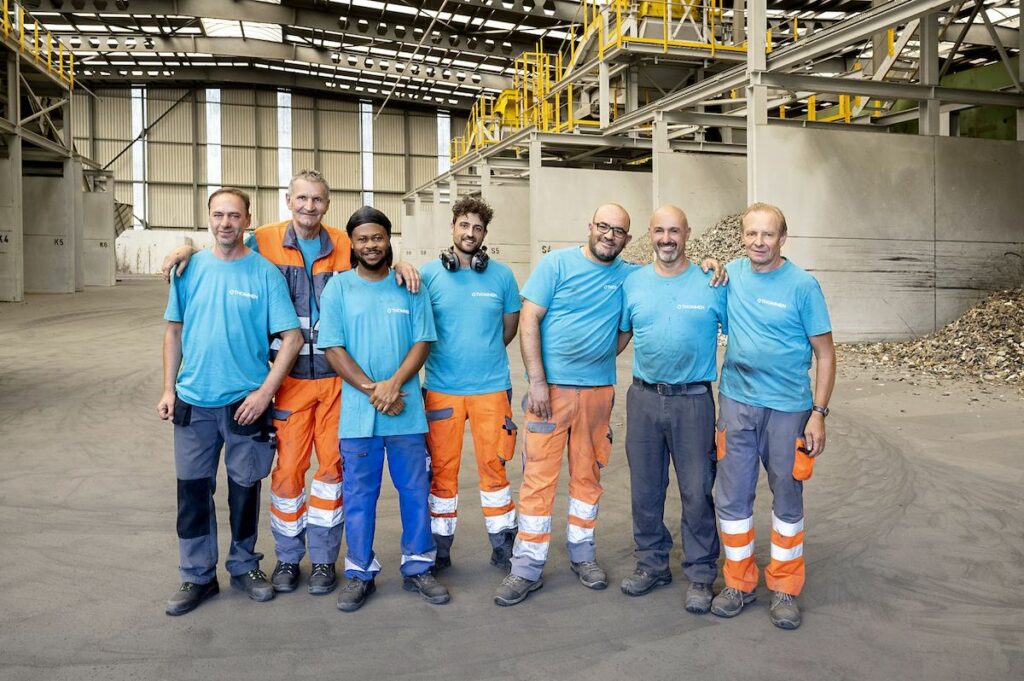 STEINERT technology is robust, precise and a joy for staff to use
The third generation head of the company describes himself as an investor. A large share of his profits is ploughed back into the company. "I want my people to have the best production facilities and operating equipment to do their work." In describing the sorting machines, he says that he appreciates German thoroughness because it means that things are robust, reliable and deliver perfect results. He adds that STEINERT is not the cheapest supplier on the market. "But I am prepared to pay the additional price because I know that it works." He and his employees also like the modern feel of the controls and the performance levels. The eyes of his machine operators light up when they see the results, which reflects the pleasure they get from what they have produced. He in turn personally delights from taking sceptics along with him and then seeing how they passionately oversee the facilities.
Sustainability closer to home too
"Recycling is in our DNA. I come from a family that was recycling before people were even aware of the concept." But the company also has objectives that are not related to its actual purpose but are of importance to society. "Environmental, Social, Governance", or ESG for short, sums it up. According to Tobias Thommen, the focus on ESG, i.e. social responsibility, is changing how people will work in the future. He is keen to be active in this field as he too is part of this society. So he has created a separate post to concentrate on these issues. Two specific examples are electrifying company vehicles and having photovoltaic systems installed on all warehouses and operating facilities within five years.