Successful deployment of the scheme in two phases at the company's premises earned Bramhall Flooring the Recofloor Project of the Year Award 2020. The company was also Highly Commended in the Contractor of the Year 2020 category.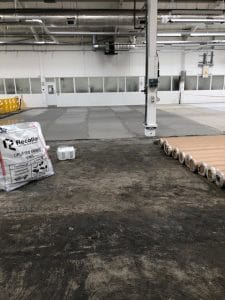 The contractor was initially engaged in June 2019 to replace existing flooring with 1,400 sqm of Polyflor SD antistatic vinyl in 5100 silver grey at STI Poynton.
Large Recofloor bulk bags were placed on-site to collect all the uncontaminated uplifted vinyl. Installation offcuts from the new vinyl were also bagged separately and collected from site for recycling.
Unfortunately, within two months of the project's completion, the whole building was left under a foot of water after a nearby river burst its banks. Despite being cleaned, the new vinyl had to be replaced due to concerns about possible water damage underneath.
In June 2020, the Bramhall Flooring team returned to replace the high-specification floor, this time in a 'more serviceable' darker grey. A turbo-stripper was used to uplift the vinyl without damaging the subfloor. As the floor had been prepared the first time, there were no challenges in refitting the new vinyl.
In total, around 18 pallets of waste vinyl flooring were recycled from both project phases.
Julian Normie, Managing Director at Bramhall Flooring commented: "We totally buy into Recofloor and it was easy to use Recofloor on both phases of this project. We rang up, asked for the bags and while we brought some back to our premises, most were collected from the site as the project continued."
He added: "We believe that recycling helps the environment and doesn't contribute to overloaded landfill sites. Using Recofloor also saves us money on skips. We have been asked several times to provide evidence that we recycle as this helps clients with their BREEAM ratings – and Recofloor membership helps us to do this."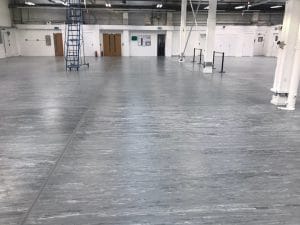 Leading flooring manufacturers Polyflor and Altro founded Recofloor in 2009 to divert waste vinyl flooring from landfills. Over that time, a total of more than 5,000 tonnes of recycled waste vinyl has gone back into new products – including flooring.
Operating across the UK and Ireland, the scheme collects post-installation flooring and offcuts from a wide variety of projects in diverse sectors, from healthcare to education. Flooring contractors contribute to the majority of collections.
Carla Eslava, Recofloor Manager commented: "Bramhall Flooring is a great example of a contractor engaging with the scheme and promoting its ease of use on projects. We would like to hear from more contractors on how they use Recofloor on projects and share their success stories."