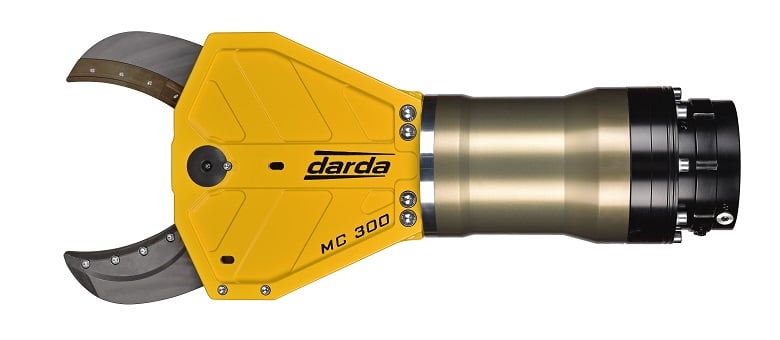 DARDA expands its Multi Cutter portfolio - The universal cutter now comes with a 350 mm opening width, for carriers up to 9 tons.
After Darda's new Multi Cutter MC300 was presented to the public at this year's Bauma in Munich, the manufacturer of environmentally friendly, hydraulic demolition equipment showed the new Multi Tool at the RecyclingAKTIV in September in Karlsruhe also in a live test. Based on its little brother MC200, the MC300 weighs 290 kg and comes with a hefty cutting force of 60 tons. With an opening width of 350 mm, the Darda Multi Cutter MC300 offers maximum productivity for use with carriers from 2.5 to 9 tons. And in combination with a remote-controlled Brokk demolition robot B200 or B300, it becomes even more effective.
Darda Multi Cutters generally stands for safe and efficient cutting of profiles, utility lines and cables in a variety of industries, including demolition, gutting, construction, recycling, and the nuclear industry. In construction, for example, entire industrial halls and production facilities are cleared of pipes, steel girders and ventilation shafts, heaps of cables are cut into small pieces, and the materials are sorted in preparation of the subsequent demolition work. In recycling yards, plastic pipes, high-voltage cables, deep-sea cables and much more, including a great deal of scrap, are cut. The Multi Cutters from Darda are used for everything from car recycling to the separation of car tires and rims. And if you need to use them underwater, that is no problem either.
Nevertheless, the Multi Cutter is particularly popular with contractors when used for internal coring: "Its slim design and maneuverability make our Multi Cutter an economical cutting tool for small carriers, even when working in difficult to access places. And regrindable and replaceable cutting blades guaranty easy maintenance and low wear costs," says Sales Manager Andreas Ruf from Darda.
This article is published by
The name of "Darda" stands for competence and know-how in the development, production and the sales of environmentally friendly, special hydraulic demolition tools. Quality, power and solutions to unconventional problems are most important. We can offer the right tool for most demolition jobs. After quality and strong performance our next priority is; ...