On a good day, up to 1,000 boxes of salmon are fed into production at NORLAX A/S, Denmark. The huge quantity of EPS boxes used to fill 4 truckloads per day, which commuted constantly between the company's premises and a waste handling company 30 km away. Nowadays, the blocks are picked up every two weeks, when there is a total of 10 pallets, representing a total of around 5.5 tons.
"It is highly durable and easy to operate. We have to adjust it a little from time to time because there is a difference between the various EPS types in the boxes we receive. Nine blocks on a pallet weigh typically 550 kilo, but we have also been right up to 800 kilo," says Factory Manager Carsten Krarup.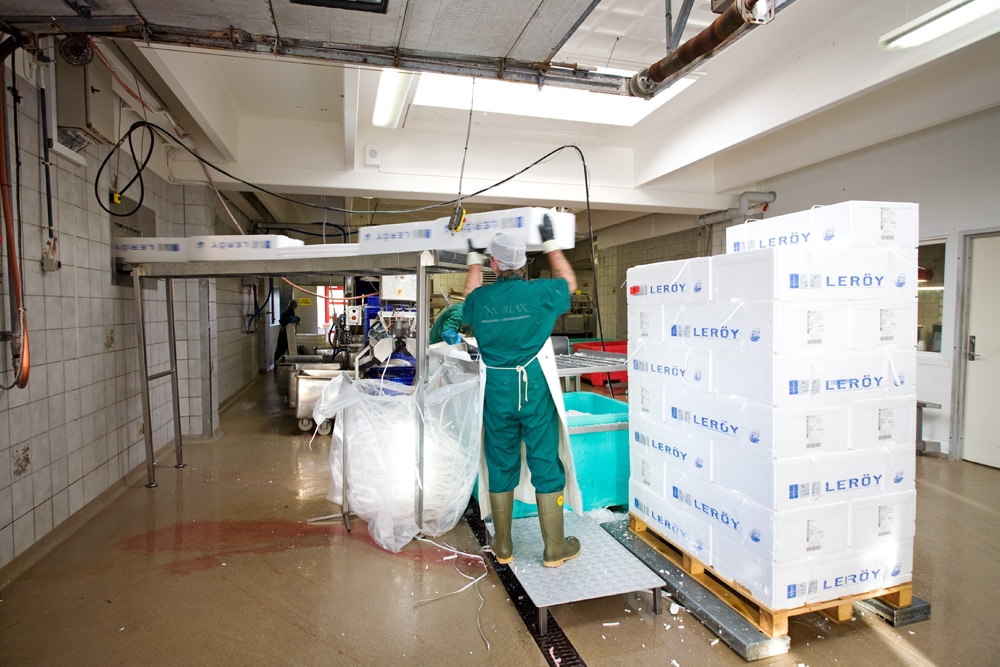 The compactor is located in an outbuilding added to the production building to avoid EPS pieces blowing around. In the main building, the empty boxes are pushed on a slide and directly into the machine once they are empty. They are turned upside down to empty ice and water out before being compacted.
"It's more environment friendly to sell EPS for recycling instead of disposing of it as waste, and it becomes a source of income instead of a cost. EPS boxes used to be very expensive to dispose of," concludes Krarup.
The compacted EPS blocks bring in about DKK 1,600 per ton, and apart from the waste charge, 4 daily truck runs are saved, including labor and truck hire.
"Overall, the machine has more than paid back, even with the building we put up to house it, we got a return on investment within maximum of 2 years," says Krarup.