The twin ram automatic baler, supplied by CK International, produces larger and more consistent SRF (Solid Recovered Fuel) bales. This results in much faster loading times due to fewer bales stacked in the containers.
The new baler is installed at Re-Gen's new 300,000 tonnes per year facility which boasts state-of-the-art optical sorting, ballistic separators, and a range of eddy currents and steel magnets.
Faster Loading at the Port
It was important that the new machine could produce consistent bale lengths (within 100mm) to allow the material handlers to lift 2 or 4 bales at a time. Bales with identical lengths are easily stacked, so loading in the ship's hull is faster. CK International developed a bite-sized calculator, programmed into the CKTR121 baler, to ensure the correct amount of material was loaded into the bale chamber. This would guarantee a consistent bale size.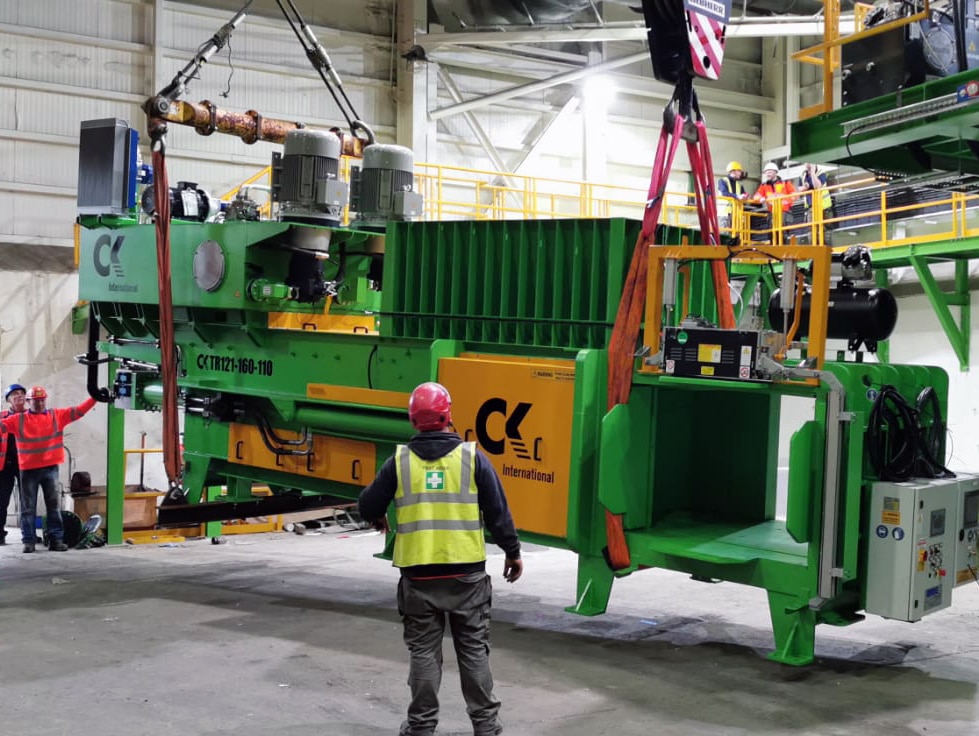 Customised to Suit
CK International worked closely with the engineering team at Re-Gen Waste to understand their specific requirements within the new MRF. This resulted in several modifications to the baler. CK International was able to guarantee 20T/hr throughput of material through the baler and they even upgraded their current 120T model to a 160T compaction force to guarantee the bale density that Re-Gen required. As SRF material is light and flocculent, the baler was designed with pre-press compaction to ensure as much material, as possible, could be baled. Each bale must weigh 1.2 tonnes.
Not only does the baler fully integrate into the MRF plant, but it also integrates with the Crosswrap system. Bales from the twin ram baler to the wrapper are transferred via a moving bale table. It now all fits well and operates efficiently in a confined space.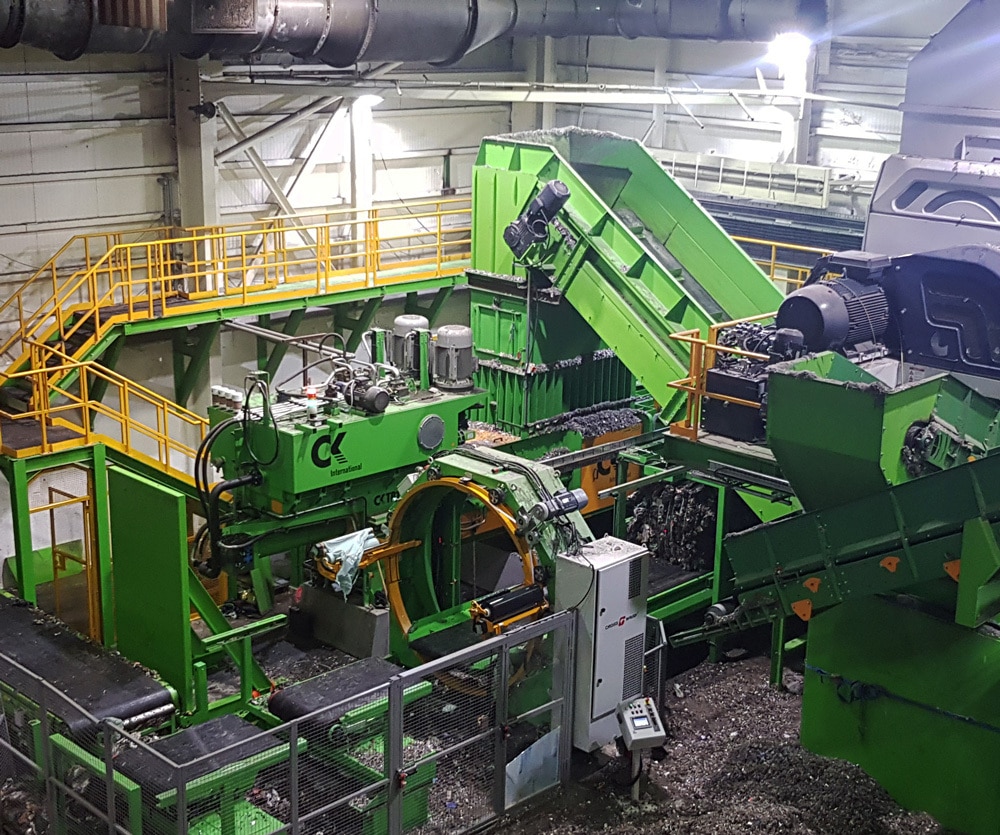 Circulation of Clean Air
Installation of the air cooler outside the building has resulted in clean air pumping through the baler. As SRF waste can cause a lot of dust, combined with a duty cycle of up to 20hrs per day, this method greatly reduces the risk of overheating. It ensures that fresh air, rather than dusty air, goes through the cooler. CK International also created a special air conditioning container for the baler control panel to ensure no contamination.
Remote Management
A key feature of the fully-automatic baler is an integrated data management system. Re-Gen's team is able to remotely monitor the bale production, consistency and are aware of any real-time problems during production. This feature is vitally important when running such a large facility.