Introducing an onboard weighing system eliminates additional steps in an already busy process and delivers data to the operator immediately. Regardless of the application and or business, improving weighing productivity will increase revenue and improve safety within the operation
Engineered with the end-user in mind the SkidWeigh Plus ED series lift truck scale is the simplest most efficient scale on the market, accurate to +/-1% of lifting capacity, and capable of withstanding the harshest of environments. The SkidWeigh Plus can easily be installed in the hydraulic lift circuit of any material handling equipment regardless of voltage and does not alter the capacity plate. Once installed the system can be calibrated and configured by anyone in minutes.
SkidWeigh Plus: The Advancement of Onboard Check Weighing
Over the last 30 years, SkidWeigh systems have led and defined the onboard check weighing industry. As a design innovator IVDT has built off the industry-leading ED series check weighing platform and created a comprehensive digital onboard scale that is able to integrate several critical operational processes that are inherent in all material handling businesses. More than just a lift truck scale the SkidWeigh Plus ED series utilizes a powerful microprocessor technology that allows for extensive programming versatility. This digital platform advancement allows the SkidWeigh Plus ED series to offer a wide range of production processes, safety compliance features, and enhanced data options.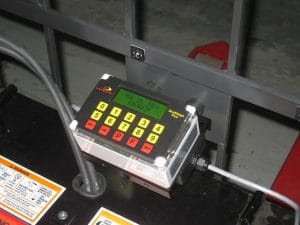 The SkidWeigh Plus ED3 is the industry's most comprehensive onboard lift truck scale that combines a complete check weighing suite with the ability to record and export data. Utilizing 64 Mb of SDRAM the SkidWeigh Plus ED3 records all events that are required and stores them till a data export is required. The SkidWeigh Plus ED3 also comes standard with an easy-access USB port for .xls formatted reports. The standard configuration of the SkidWeigh Plus ED series is also available for up to 8 options that improve productivity and enhance safety.
The SkidWeigh Plus ED4 offers the reliability and functionality of the
ED3 with a wireless communication protocol. Utilizing a Base Station
communication hub 1 or multiple SkidWeigh Plus ED4's can connect
to any network without requiring Wi-Fi or any monthly hosting fees.
The standalone wireless communication protocol delivers data as it
happens to a dynamic LAN webpage that allows users to track and
sort important information. For critical events, email notifications are
available in real-time. The SkidWeigh Plus ED4 is also available for
up to 8 productivity and safety options.
SkidWeigh Plus: More than Just Check Weighing
Only the SkidWeigh Plus ED series, with its digital platform and microprocessor technology allow end users to select from a series of productivity and safety options. The advantage of modular plug in options is that you can create the SkidWeigh Plus unit that is best suited for your business today and add options in the future as your business changes.
Overload Notification
This option allows end-users to set a weight threshold that is critical to operator safety and or infrastructure capacity. Vehicle maximum capacity or racking weigh limits are easy to respect as, within seconds of being surpassed, the system will sound an audible strobe alarm.
Operator Identification
The option allows an operator to be associated with the usage and or events being performed or recorded during that time. That ID will be time-stamped on all event reports. Does not prevent the starting of the vehicle.
Access Tool
Ensures that only authorized operators are able to start and use the vehicle. Access can be granted by way of pre-programmed 3-digit numerical codes or using RFID proximity cards or fobs.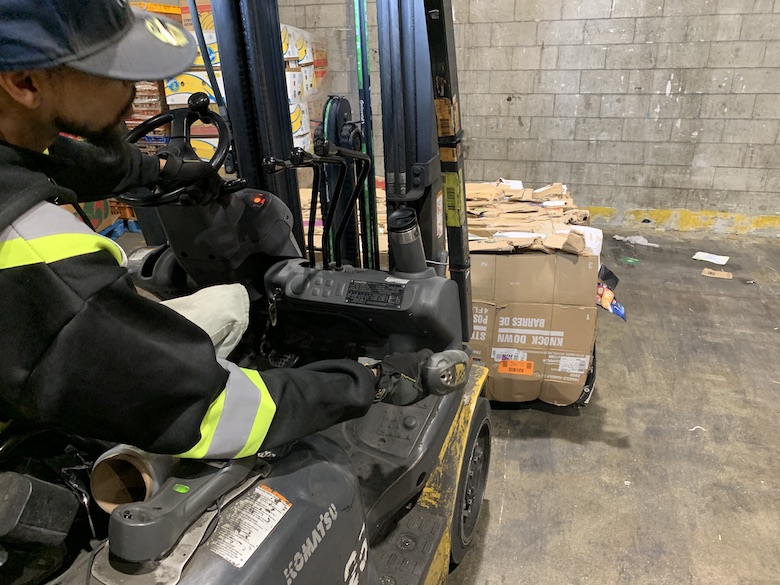 OSHA or MOL Pre-Shift Safety Checks
Prior to the start of a shift, this option will prompt the operator to start and complete a pre-shift safety check. Can be set for daily, continental, or rolling 8. The time taken to complete the safety check is also timed and recorded for compliance. Additional questions can be added or customized.
High and Low Impact Detection
Systems with this option provide two-level impact monitoring and notification. High-level impacts are alerted with the assistance of the audible strobe alarm and recorded by the system for investigation. The SkidWeigh Plus ED4 system also provides email event notification. Low-level impacts are designed to give the operator a pre-warning and serve as a tool to increase safety and prevent damage.
iVisibility
iVisibility is a unique option only available to the SkidWeigh Plus ED series. This option allows management to keep track of actual operational usage beyond simply vehicle run time. Determining a utilization factor in seconds allows for better visibility into production cycles and the ability to set benchmarks.
Printer Module
This option allows you to connect via Bluetooth, a number of printer options. This allows for data collected by the SkidWeigh Plus ED series to be exported to a print ticket and or the creation of a barcode sticker.
Scanner Module
This option allows you to connect via Bluetooth, a number of scanner options for purposes of integrating barcodes. Perfect for inventory or product identification.Can be set for daily, continental, or rolling 8. The time taken to complete the safety check is also timed and recorded for compliance. Additional questions can be added or customized.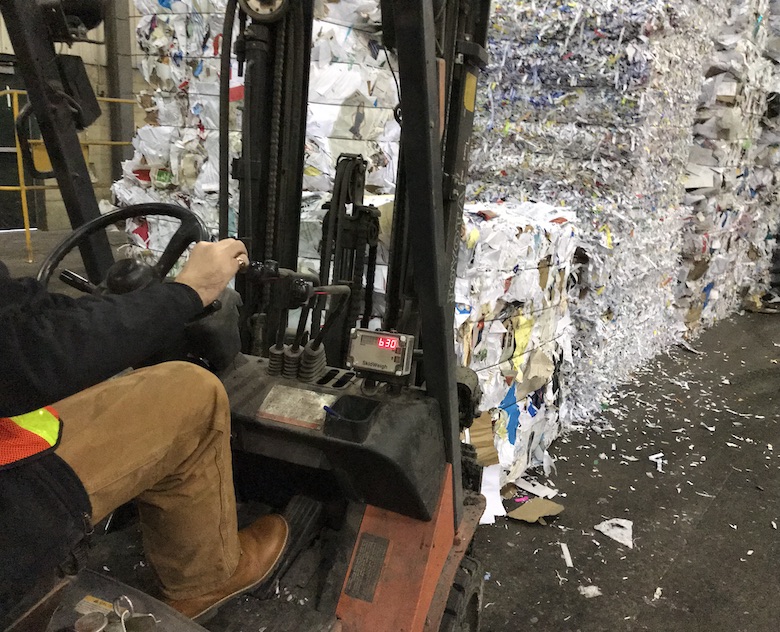 SkidWeigh Plus ED Series Makes Importing and Exporting Data Easy
Scanners: Point and Click Productivity
For businesses that require quick data importation and the ability to integrate it into a multi-processed exchange, IVDT offers a variety of scanner options Bluetooth Scanners provide the forklift operator a quick and efficient way to timestamp, recognize waybills, and or barcoded information without interrupting the existing productivity cycle of the business. IVDT Scanner is available in a variety of options depending on the application and proximity between operator and load.
Onboard Printers: Records, Receipts and Labels on the go
Many businesses especially those that deploy forklifts in fast-paced environments often rely on IVDT systems to provide notifications such as weight or shipment totals. IVDT takes into account that driving a forklift alone is a tedious endeavor that demands focus therefore requires full attention. With the addition of a printer and the push of a button, there is no need to manually record totals thus eliminating dangerous interruptions and mistakes caused by human error. All printers are Bluetooth and output is either thermal paper or peel and stick label format.
Base Station Communication Hub: Easy Network Connectivity
The Base Station, compatible with the SkidWeigh Plus ED4, allows you to connect to your network and retrieve all pertinent data in real-time. Utilizing 900 Mhz license-free technology, the ED4 is in constant contact with the Base Station. Simply connecting the Base Station with a DHCP or static IP and the setup of a mail server allows you to get email event notifications and access all your data on a LAN webpage.