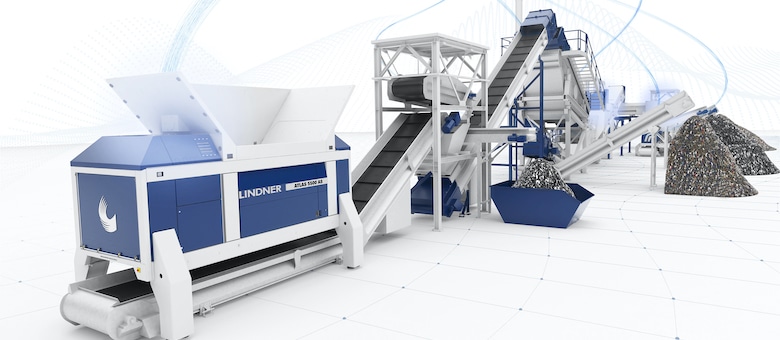 Only a couple of years ago, terms such as digitalization or waste management 4.0 sounded very futuristic. What was still considered a prediction of coming trends at the last IFAT in 2018, has already become a reality at the World's Leading Trade Fair for Water, Sewage, Waste, and Raw Materials Management in Munich in 2020.
Whether collection logistics, customer communication or the production process, current developments show that more and more digital technology is finding its way into all aspects of waste management, where it is optimizing the valuable resources flow and ultimately transforming the sector into a highly efficient circular economy.
As a shredding and waste processing specialist, the Austrian company Lindner Recyclingtech consequently relies on smart system solutions to transform waste into recyclables and produce high-quality solid recovered fuels. Stefan Scheiflinger-Ehrenwerth, Head of Product Management at Lindner, explains: 'We have always been one of the industry's pioneers, which is why the mechanical components of our facilities are already very sophisticated today. Digitalization and smart technology is now the next evolutionary step. The industry 4.0 concept has triggered an industrial revolution that will also change the waste industry significantly over the coming years. Our customers work with valuable raw materials. And they must be processed into new, top-quality products with maximum efficiency – whether the ideal fuel for resource-saving energy generation or the raw material for high-quality products made from recyclables.'
That's why at IFAT 2020 in Munich Lindner will be showcasing not only its latest generation of the highly efficient Atlas primary shredder but also smart system solutions that turn waste recovery facilities into smart factories thanks to their sophisticated digital technology and interaction of various system components. 'If we look at the requirements and legal regulations that will be imposed on the raw materials industry in the future, the only way we will be able to work profitably is to increase the product quality of fuels and recyclates as efficiently as possible. On the one hand, this will require digital transformation, and on the other, we will have to optimize mechanical parts. For example, primary shredding – or rather the optimal preparation of the delivered waste for downstream equipment – is essential,' explains Scheiflinger-Ehrenwerth, who adds: 'When it comes to robot sorting, tracer detection or online quality assurance systems, then not only is the optimum particle size important but consistently dosed feeding is crucial. That's why it's so important for the individual machines to communicate with each other. Combine this with the power of smart data and it's easy to make the most of waste. Come to Lindner's booth at IFAT to find out more!'
Lindner at IFAT 2020: Hall B6, booth 251/350
This article is published by
Innovation as a principle, quality promised and delivered. These basic ideas have informed the actions of Lindner ever since the company was founded in 1948.
The Lindner family business has been offering innovative, tried-and-tested recycling solutions for decades. At its production plants ...